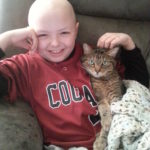 Our son, Wyatt was diagnosed with Burkitt's Non Hodgkin's Lymphoma in 2014. He endured grueling inpatient chemotherapy, and extended stays in the pediatric intensive care unit. His care included over 119 days in the hospital, and some terrifying procedures. Months after his last chemo, and a visit to his family physician Wyatt remarked to his grandfather how he wished there was a treasure chest for 4  West (ped oncology unit). If the regular doctor's office had one, it was a shame that the hospital didn't have one, because the tests and medicines were much worse in the hospital.  Wyatt and his grandfather went to work in his wood shop, and designed and built a treasure chest for 4 West.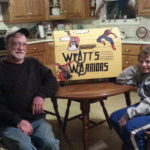 The treasure chest on wheels is painted with superheroes, and visits brave patients after medicines, procedures or just when they need to be cheered up.  The chest is also used to entice patients to be mobile, when they have been bed ridden for long periods. The chest is located at the nurse's station and operated by the pediatric oncology nurses.  The chest is available for pediatric oncology patients 24 hours a day.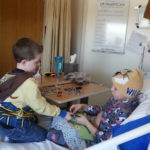 Wyatt's Warriors has been in operation for one year, December 2015.  Our treasure chest on wheels has supplied the patients of Kentucky Children's Hospital with a fully stocked treasure chest. The treasure chest is filled with various toys and other treasures monthly, or on an as needed basis. Additional larger surprise items are kept in storage and given to patients with surgeries etc.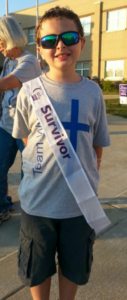 After speaking with a Child Life specialist and donation coordinator about potential programs that would benefit the patients, it became apparent that science experiments, and activity centers would be a perfect fit.  As a high school educator of 18 years, I have used my science background and service learning projects to present three inpatient science day camps for Kentucky Children's Hospital.  Wyatt's Warriors' volunteers must all comply to volunteer and confidentiality training as well as the guidelines set forth by Kentucky Children's Hospital.  Over the course of the year, we have received numerous compliments regarding the operation of the hospital based toy chest, as well as our inpatient science camps.

Contact Us: wyattswarriors@acco.org
Wyatt's Photo Gallery