Labor in Love: Building in Hope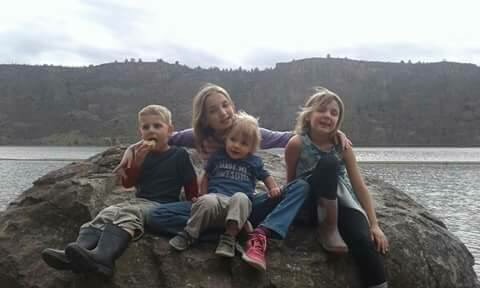 I suppose you could say that's how our cancer journey began. Hayden was climbing a tree in her back yard when her foot became caught between two limbs- causing her to twist the knee. Thinking it was just a sprain we gave her some time to heal.
Just one week after school ended we sold our home, packed away the last boxes, piled all four kids into the car and set out on the journey of a lifetime. We temporarily moved in with Hayden's Grandma and Grandpa Shenk to try our hand at building up a family owned farm: growing fruits, herding chickens and fostering bees! And along the way we would fix up an old building to call our own. Our dreams were filled with love, laughter and determination! Little did we know that just one week after the big move our lives would change forever and our path would take a sharp turn into the unknown. Hayden's knee was still in pain, warm to the touch and ever so slightly growing in size. We decided that it was time to take Hayden into the doctors. The doctor was immediately concerned because normal sprains aren't warm and her knee cap was no longer in a stable position- which is a clear sign of something more sinister at hand; that afternoon she was set to have an image taken of her knee. It revealed a large mass within the bone at the end of her femur. That is where the very first whisperers of cancer entered into our lives. After being referred to Doernbecher Children's Hospital in Portland Oregon, July 5, 2017 would confirm that our sweet 9 year old daughter was in fact an Osteosarcoma patient. We started a very rigorous Chemotherapy regimen in late July that would deter any progress on what we hoped to be the most adventurous summer ever. Instead, we settled into two rooms within our generous parents' house and began the fight of our lives.
God has away of working even the most horrific ordeals into something so beautiful. We kept telling our selves to hold onto the original plan that God put in our hearts: build a farm. The two of us were blessed with just enough to be able to stay home from work to take care of not only Hayden, but her three siblings. And when her daddy found the time and energy.. he kept at building fences, planting blueberries, strawberries and even taking a local "Master Gardener" class. We held onto whatever normal we could muster between the needles, chemo drugs, surgeries, blood transfusions… weeks on end in the hospital with high fevers and low blood counts.
Month after month Hayden's little body endured hit after hit of the most awful medicines to kill off the tumor in her knee. Then the time came for an entire knee and partial bone removal. They would replace what was take with metal and plastic, thus ending her 29 weeks of Chemotherapy.
We are still fighting for a cancer-free 11 year old as we enter 2019.. every other check-up reveals a new growth that has moved into her lungs- this is accompanied by a surgery to remove the mass and then we press onward with our lives and hold tight to our dreams.
Working into the seasons, one day soon we will set up our new lives within our very own walls. We never gave up and idle hands we were not. We would spend those ten or so months getting a little done here and a little done there, not only on the small a-frame building that sits off the bank of a winding river and heads the acres of a green pasture and wild blackberries; but our little garden yielded yummy onions, sweet strawberries, corn, green beans, cucumbers and a bite or two of broccoli. It wasn't much for our first harvest, but it was progress. The chickens are now able to roam "free-range" and the bees are hard at work buzzing from flower to flower.
Amidst the chaos of cancer and not having a place of our own, we still manage to work towards our dreams. This has birthed a passion that recognizes the need of other families walking the same path, hence the foundation "LABOR IN LOVE: BUILDING IN HOPE".
While in their darkest hour, families shouldn't have to worry about the repairs their home may need.. or the finances to cover such. We want them to feel utter peace and binding confidence that when they walk through the door, their sanctuary is stress-free and safe. Which will give them more time for the most important things in life..
"LABOR IN LOVE: BUILDING IN HOPE" also understands the importance of a clean and uplifting living-space for the child who is fighting for their life. We want them to dwell in peace, joy and hope. When it's time to be home from the hospital and all they can do is lay in bed because their weak bodies need the rest, we long for them to be surrounded by the things that make them smile. While it isn't a cure, it is something to grasp and bask in – knowing someone understands the situation.. someone is here to help.
 LOVE is the best way to spread HOPE and we aim to do just that through our Foundation.
A positive soul is a strong soul and a strong soul is a fighter! "And we know that in all things God works for the good of those who love Him, who have been called according to His purpose." -Romans 8:28