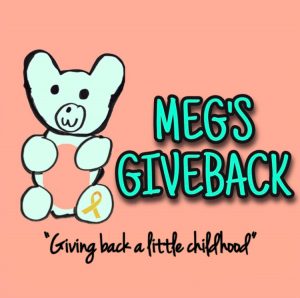 Meg was diagnosed with Acute Lymphoblastic Leukemia (ALL) on December 23, 2015. She was 13 years old at the time and we were on vacation in Oregon. After spending the first month of her treatment in Portland Oregon's Doernbecher Children's hospital, she was allowed to come home to Virginia on January 21st, only to go back into the hospital with a severe blood clot in her arm. She continued to face complication after complication during her chemotherapy treatment. From fungal meningitis, to pancreatitis, to steroid-induced diabetes, and even appendicitis. If it was a weird side-effect of treatment, she seemed to get it.
Meg's spirit and tenacity and bravery are unmatched. Known as the mayor of the oncology floor in the hospital, Meg was always social while in patient. Meg got to know the other children, the nurses, techs, and all of the doctors quite well and they became part of her family. Meg completed treatment on May 18, 2018 and celebrated with a "No More Chemo" party! She has been cancer free since then.
As a way to give back to all of the people who supported her while she was sick, Meg started "Meg's Verry Merry Giveback," where she collected toys during the holidays and delivered them to the hospital at Christmas and in the summer for "Christmas in July." Meg started "Meg's Verry Merry Giveback" for many reasons. She wanted to be able to give back to the hospitals that gave her so much when she was sick. She wanted to be able to connect with families that were in the same situation as hers.
"When I started Meg's Verry Merry Giveback, I wasn't sure where it was going to go. This year is our 4th year doing it, and I'm so proud of what we have done. I have met countless kids and my parents have been able to connect with many parents. I love putting a smile on kids' faces, and I love getting to hug the parents and tell them it's going to be ok."

Purpose
We have decided to start a Founding Hope fund to expand on our mission of giving back. We are now going to call it "Meg's Giveback: Giving back a little childhood" to reflect a change in our mission to include not only giving toys to children in treatment, but also finding ways to give children back a little of the childhood they have lost to cancer. We also hope to make donations to childhood cancer research, focusing on better treatments and a cure.
Please join us in giving back a little childhood to the children facing the battle of cancer!