The story detailed below is an account written by Hannah, an ALL survivor. She now has a nonprofit called Even Mermaids Get Leukemia.
It was tech week for the musical I was in, so everyday I would feel extremely tired. It didn't seem out of the ordinary because I was practicing for very long hours. While at school I had came down with a fever, so I was sent to the nurses office. My mom took me to the doctor who said it was just a virus that was going around. I went back home and continued going to school the rest of the week. I went to the school nurse who suspected mono and advised me to go to the doctor for a blood test confirmation. The doctor said that my platelets were extremely low and I was sent to the hospital.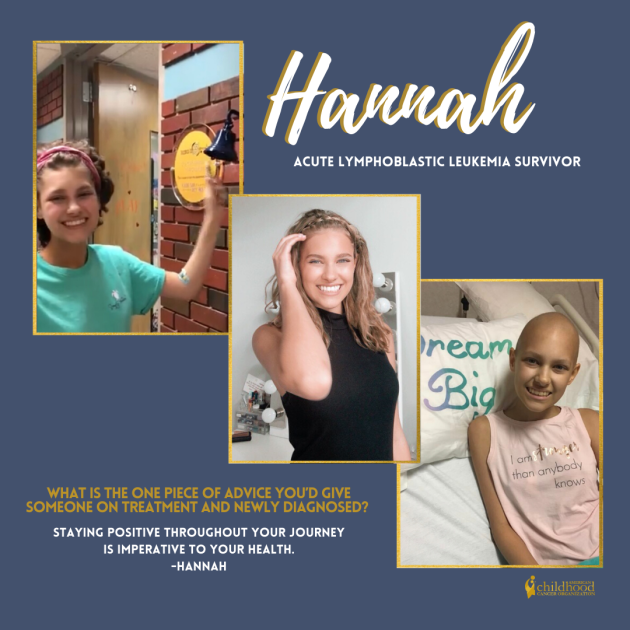 Once diagnosed with ALL, I went through the induction phase and then I was given a bone marrow test to indicate whether I needed a transplant or not, thankfully I didn't. I went on to face two and a half years of chemotherapy.The most difficult chemotherapy I had to take was methotrexate. My body had an adverse reaction of sores in my mouth and down my gi tract. The sores made it unbearable to eat or drink and the doctors had to place a feeding tube due to the sores. I was given vitamin k intravenously on Valentine's Day 2017. The vitamin k sent me into anaphylactic shock and as a result I was placed in the ICU for the next week. Ever since that day my family and I vowed to never take life for granted.
I rang the bell on February 20, 2019!
The American Childhood Cancer Organization has helped me by showing me that there are children just like me who had to fight for their lives. They also help bring awareness to people who may not understand why finding a cure is so important.
After going through chemotherapy, I started a nonprofit called, "Even Mermaids Get Leukemia." I wanted to create an organization to help children that have gone through chemotherapy to get back to being kids again. I want to help kids going through chemotherapy and share information making their journey easier
What is one piece of advice you give someone on treatment or newly diagnosed?
Staying positive throughout your journey is imperative to your health.

Together, we can make a difference.
Donate today because kids can't fight cancer alone®.