DANCE IN THE RAIN:  A JOURNAL FOR TEENS WITH CANCER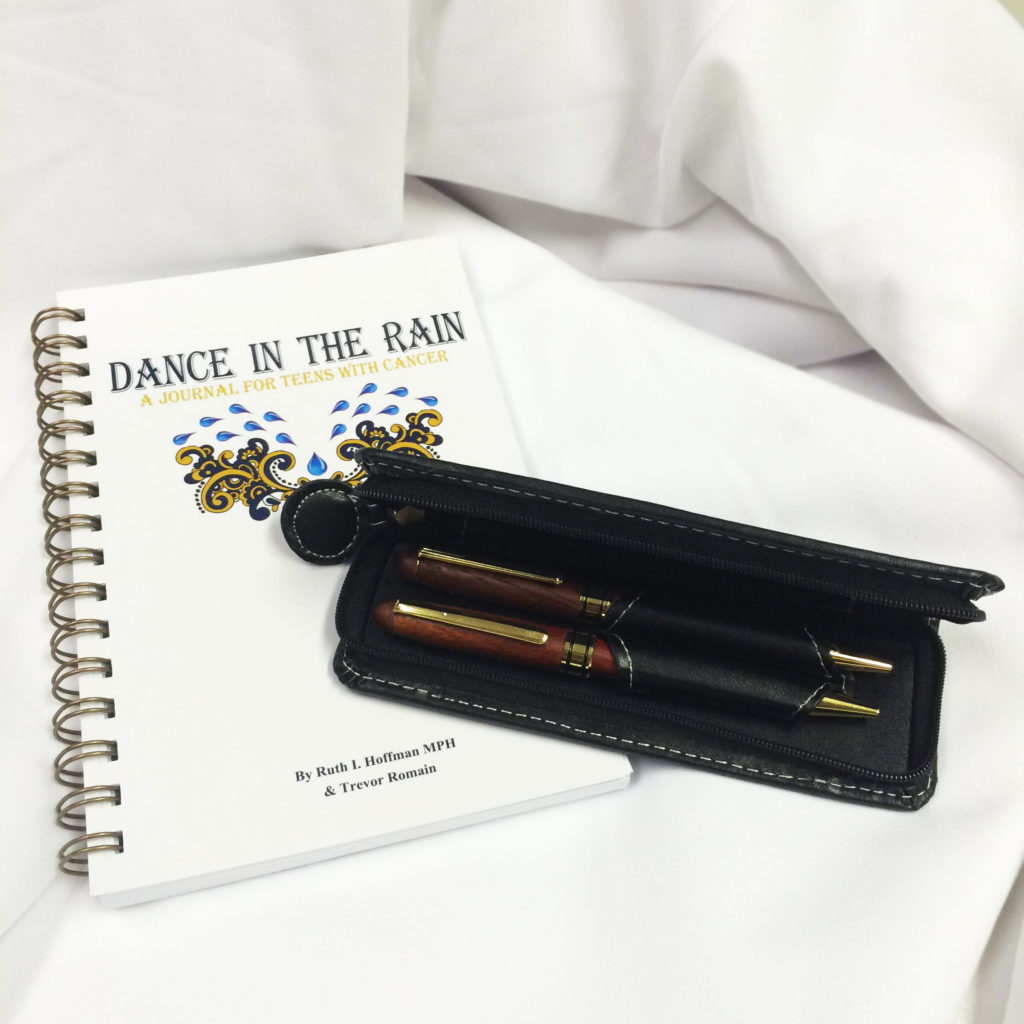 A cancer diagnosis takes a heavy physical and emotional toll on a teenager–while parents and doctors focus on responding to the most urgent medical issues, the teen's emotional needs/anxieties/concerns are often pushed to the side. Moreover, as teens with cancer struggle to come to grips with their new reality, they may refrain from verbalizing their feelings and concerns for fear of worrying their parents or friends.
The American Childhood Cancer Organization (ACCO) always strives to meet the needs of the families we serve, and we understand that teens battling cancer (and teen cancer survivors) have age-specific concerns that differ from those of younger patients. After surveying families about most-needed resources, we received an overwhelming response requesting a customized journal for teens diagnosed with cancer. ACCO responded with the production and release of Dance in the Rain, A Journal for Teens with Cancer.
For cancer patients of all ages, keeping a journal is a healthy form of self-expression and a helpful tool to better understand the roller coaster of emotions they are experiencing. By helping teens to organize their thoughts and compose clear, treatment-related questions, journaling can also improve communication between teen cancer patients and their doctors.
Looking for Help?
ACCO offers FREE books and resources for families of children with cancer.
The "Dance in the Rain" journal is a wonderful resource for our teenage cancer warriors, and gives teens a safe space where they can feel comfortable articulating their feelings throughout their difficult journey:
Designed with key writing prompts, the "Dance in the Rain" journal helps teens to process their innermost thoughts and feelings
Privacy is a luxury that cancer patients are often forced to sacrifice—journaling gives teens with cancer a healthy outlet for their emotions and a private environment to vent, scream, reflect, hope, and dream
The journal features a "What's What" glossary section, where teens can find a comprehensive list of online resources/support networks and relevant medical terms defined in easily-understandable language
The top of each journal page has a row of emoticons so the teen can color in their current mood, as well as doodles for those days when the teen experiences "chemo-brain" or simply feels too tired to write
The journal is shipped with a beautiful wooden pen and pencil set
**ONE journal is available per teen currently receiving cancer treatment.
Every year, approximately 15,000 teens in the United States undergo treatment for cancer.
 Research saves lives. Research saves lives. Please join us to raise awareness about childhood cancer… because kids can't fight cancer alone!!
For more information about the American Childhood Cancer Organization call 855.858.2226 or visit: