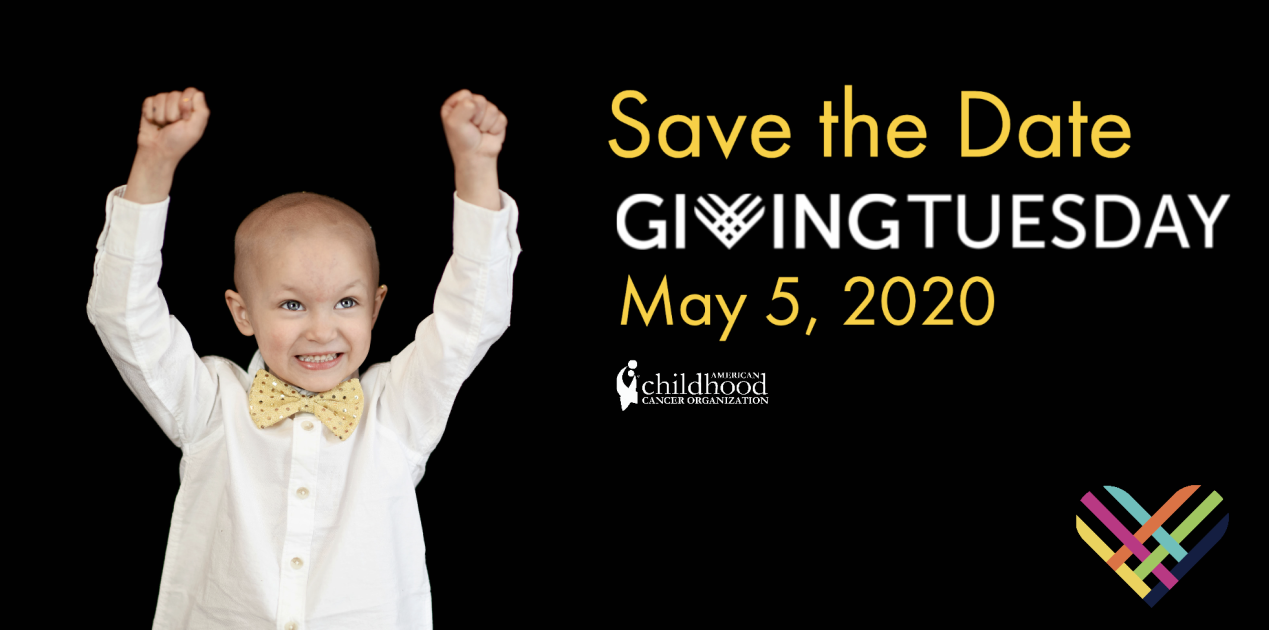 Giving Tuesday has been moved up to May 5, 2020!
We are living in unprecedented times. As the whole world experiences COVID-19, join forces with The American Childhood Cancer Organization for #GivingTuesdayNow–a global day of giving and unity that will take place on May 5, 2020. There are so many ways you can help others during this time.

ACCO is dedicated to making childhood cancer a national health priority through shaping policy, supporting research, raising awareness and providing educational resources and innovative programs to children with cancer, survivors and their families.
Get Involved Today!
Start a Facebook Fundraiser
Facebook makes It easy to donate or start your own fundraiser. Share your fundraising page with your friends and encourage them to support ACCO on #GivingTuesdayNow
Share Your Why
ACCO works to provide resources, both virtual and physical, to families affected by childhood cancer. We'd love to hear from you! Print this flyer out and tell us why you love ACCO! Snap a selfie and use #GivingTuesdayNow and #ILoveACCObecause when sharing.
Donate
Make a tax-deductible donation through ACCO's website. Can you spare just $3 today to raise awareness for this jarring statistic and the cancer warriors fighting to not be part of it? Donate now to show your support for the children fighting this disease and their families and help ensure that ACCO can continue supporting the pediatric cancer community long after the pandemic is over.
Stay Informed
ACCO is always working to bring new content, activities and resources to you, regardless of a pandemic. Join the ACCO Newsletter and follow us on social media today.
Share your Good News
In a world that has been brought to a stand still – there is still good news. Tell us yours! We've seen communities come together for drive-by birthday parties, end of chemo celebrations and honoring survivors accomplishments – now let's see yours.
All day, follow ACCO on social media to see why we appreciate you so much. Our virtual wall will feature some of our most recent donors. Help us turn our page gold by donating today.

Celebrate Giving Tuesday with us!
On May 5 we will be flooding our social media pages with gold to show our gratitude for our recent donors. Come hang out with us on Facebook, Twitter, and Instagram to see new posts all day. We appreciate our wonderful community so much, and we can't wait to show you why!
---
Meet the Kids!
Your donation will help countless cancer warriors. Click below and get to know a few of them!