The story detailed below is an account written by Colton's mother about his journey with cancer. He is now a survivor and enjoying every day. 
Colton developed facial palsy that was originally diagnosed as Bell's palsy and we were told it would go away on its own but about a month and a half later he started crying out in pain with his ear hurting. After treating an ear infection for another month he referred to an ENT who looked in his ear and told us it wasn't an ear infection but a tumor. A biopsy confirmed his suspicion of parameningeal rhabdomyosarcoma.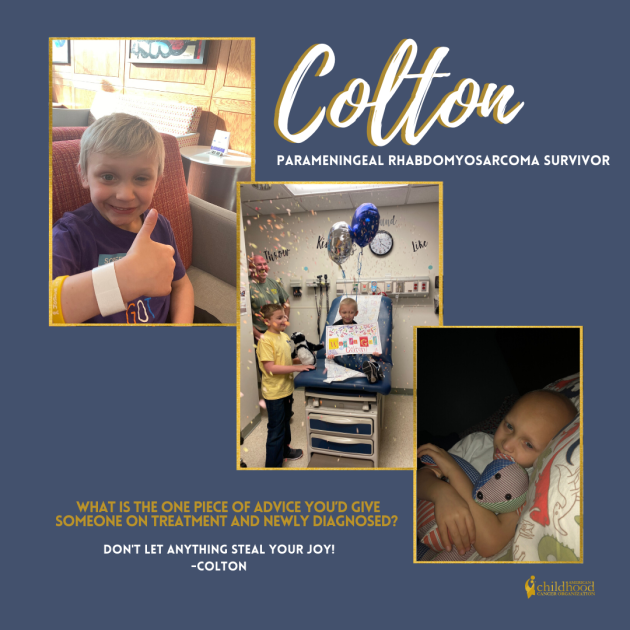 Treatment consisted of 55 weeks of chemotherapy and 6 weeks of radiation. Chemotherapy made Colton very sick and he had neuropathy in his hands and feet but he never let that steal his joy. Colton rang the bell on January 8, 2020.
ACCO has been with us every step of the way. The educational material provided at the beginning of our journey was wonderful! Colton still loves to play with his medical kit and stuffed animal!
Right now we are back at home with the family together! Colton started ice skating lessons and wants to play hockey like his big brother! He will be starting kindergarten in the fall and is looking forward to playing baseball!
What is the one piece of advice you'd give someone on treatment and newly diagnosed?
Don't let anything steal your joy!! 
Read Colton's Gold Ribbon Hero Story here.

Together, we can make a difference.
Donate today because kids can't fight cancer alone®.