Take a Pop, Share a Smile: Easing Discomfort and Spreading Joy One Pop at a Time!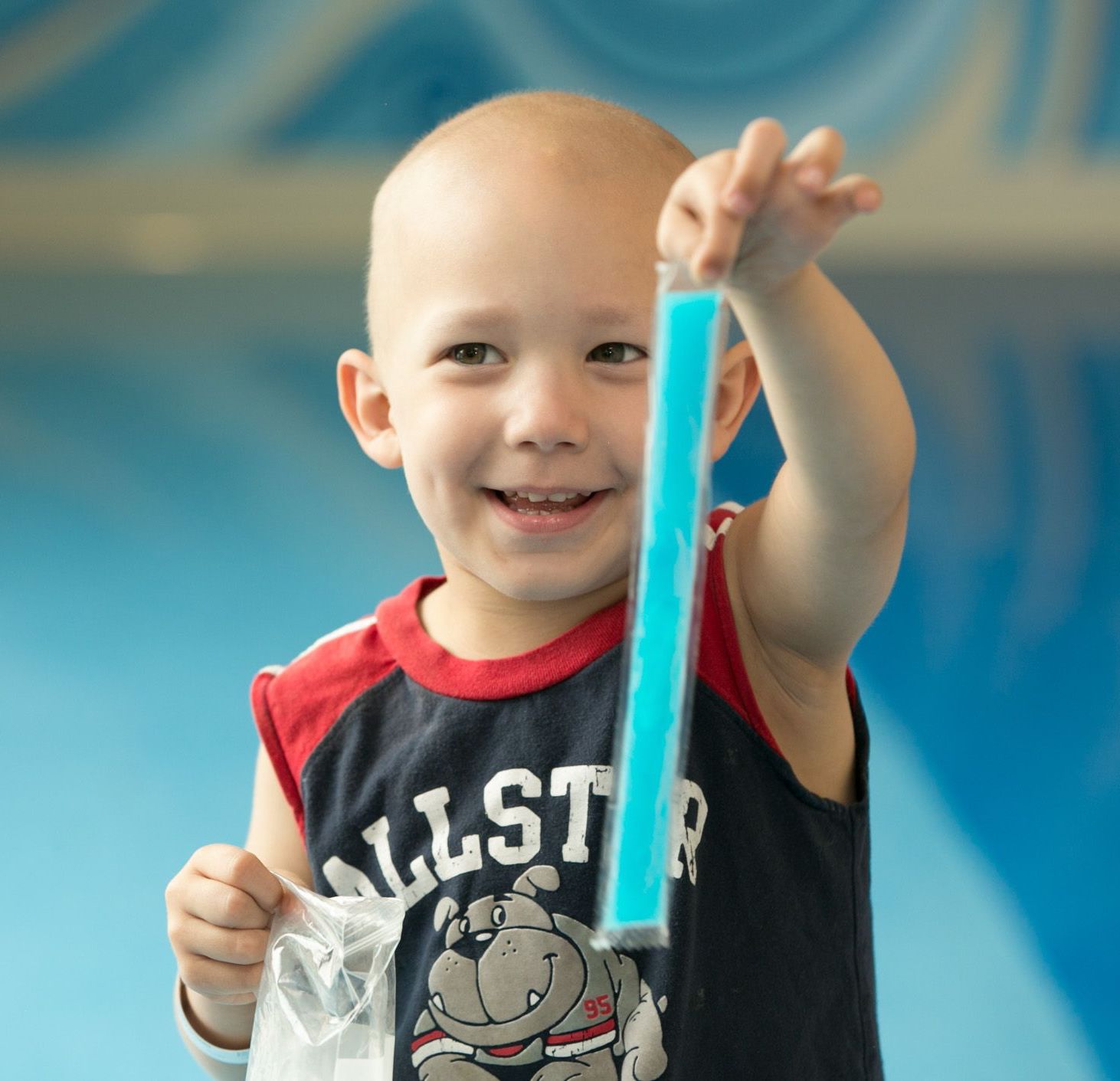 Childhood cancer is a devastating disease that strikes more than 15,000 children and teens every year. Although childhood cancer is diagnosed in a multitude of different types, each requiring a unique treatment approach, most forms of childhood cancer today are treated with a customized protocol of drug-based therapies collectively known as chemotherapy. Chemotherapy is an invasive treatment that all-too-often causes intense side effects including mouth sores that can be so painful and traumatic that they can, at times, seem worse than the cancer itself.
Some of the most common side effects of chemotherapy—sores and ulcers in and around the mouth, decrease in appetites and difficult eating, and nausea and vomiting—are extremely uncomfortable and can make it difficult for the patient to stay hydrated. Freezer pops can play a critical role in alleviating the discomfort of some of these side effects. Sucking on a tasty frozen treat can ease the pain of mouth sores, while simultaneously help to keep the patient hydrated. And perhaps most importantly, something as simple as an icy sweet pop can help distract a young patient from the discomfort and difficulty of chemotherapy, bringing smiles and happiness to a long hospital stay or visit to the clinic.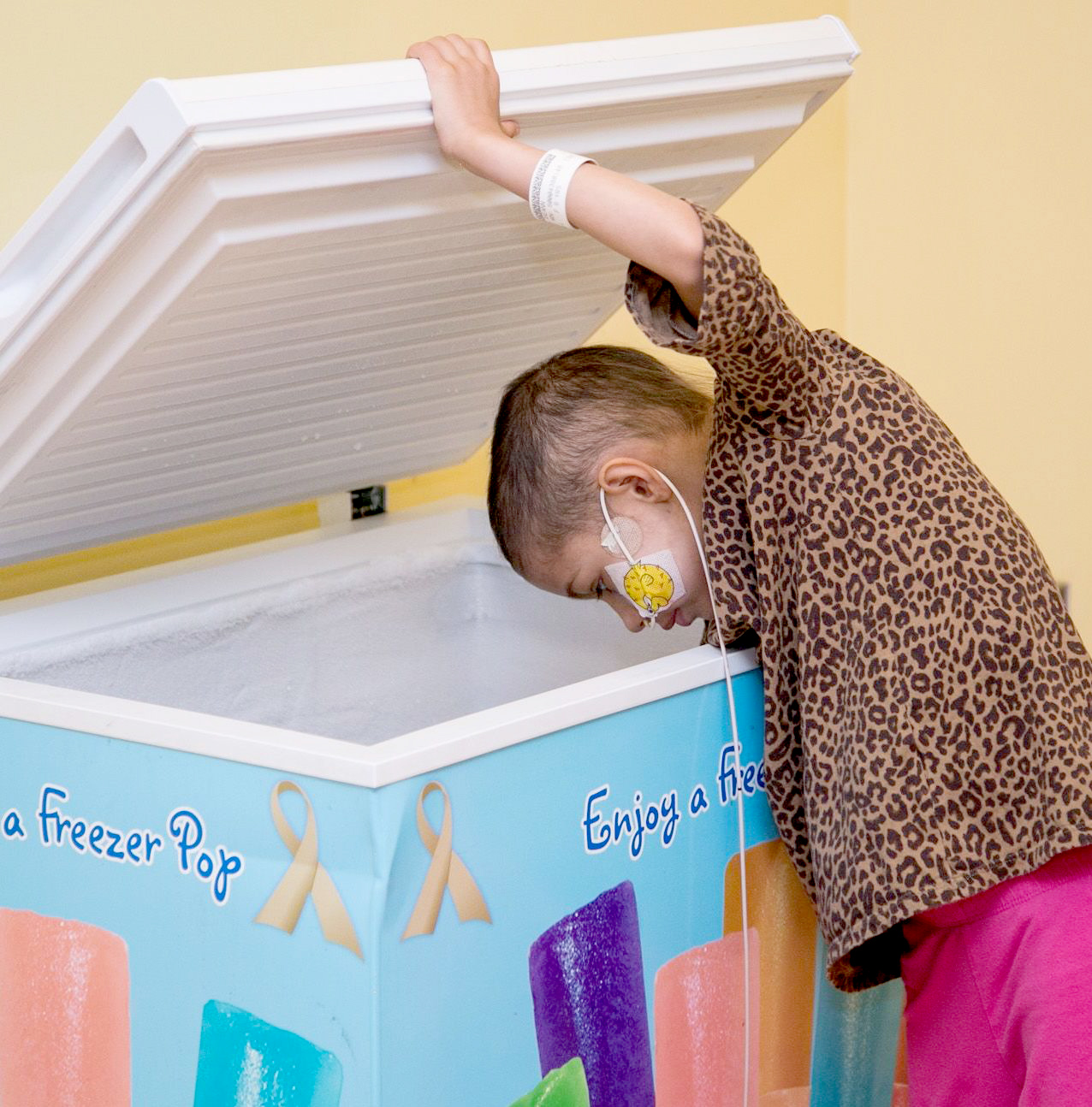 Recognizing the simple yet important role that freezer pops can have in the day-to-day life of a child or teen undergoing chemotherapy, Jel Sert, a family-owned maker of frozen treats and other packaged foods, started the Take a Pop, Share a Smile program in 2010 with the goal of providing freezer pops free of charge to children undergoing treatment for childhood cancer. The program is simple: To each participating treatment center, Jel Sert donates a freezer decorated with the Gold Ribbon and stocked with 2,000 frozen pops. The pops are gluten free and kosher. As the freezer runs low, hospital staff can simply order more free of charge! Jel Sert also handles any maintenance or replacement of the freezer itself.
Through this amazing program, Jel Sert has donated more than ONE MILLION freezer pops to more than 115 hospitals and treatment centers in 37 states across the United States!
Nominate Your Child's Treatment Center
Do you think that your child's treatment center could benefit from the Take a Pop, Share a Smile program? Jel Sert's goal is to continue expanding this important and beneficial program. Nominating your child's treatment center is easy! Simply send an email to tschilling@jelsert.com or kharrington@jelsert.com for additional information. Thank you for helping us expand this important program!
Take a Pop, Share a Smile Thanks to Long-Time ACCO Partner Jel Sert
The Take a Pop, Share a Smile program is due entirely to the generosity and caring of Jel Sert, a family-owned and family-operated company that has dedicated itself to raising awareness of childhood cancer for more than a decade. Many of its most popular frozen treats, including Fla-Vor-Ice and Otter Pops, proudly display the gold ribbon, the internationally recognized awareness symbol of childhood cancer, as well as information about American Childhood Cancer Organization and its mission. The generosity of its Take a Pop, Share a Smile program follows Jel Sert's ongoing commitment to helping children including its pharmaceutical-grade Pedia Care Pops produced for Pfizer and Pedialyte for Abbott Labs in addition to the freezer pops that fill the Take a Pop, Share a Smile freezers.