Perspective; the capacity to view things in their true relations or relative importance. It seems to be the nature of every vital chapter in a difficult journey. Oftentimes, perspective is the grey area, the fork in the road, the leveling place in which we determine if any given "cup" thrown our way is in fact half full or half empty. Many famous authors describe perspective as being one step away from choosing to be a pessimist or an optimist.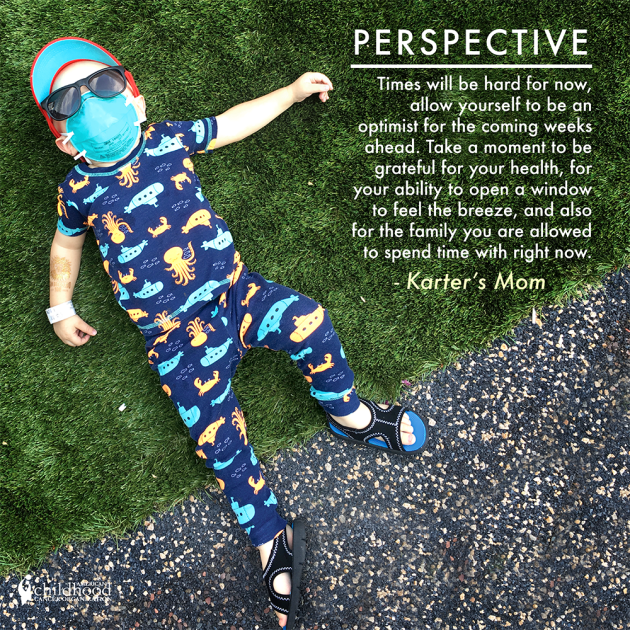 Currently what is happening in our world relies directly on the trust of others. On April 16th, 2017 our generally independent life soon became crucially dependent on trusting others. Trusting strangers, trusting research, trusting the general public for protection, trusting that the end results will be in our favor. My son Karter was diagnosed with Acute Myeloid Leukemia shortly after his 1st birthday. At the time of diagnosis, a doctor I had just met told me that 98% of my son's body was consumed with a cancer I never knew even existed before. Instantly our independent life pivoted to complete dependence on a team of oncologists. Here we sat in our fork in the road, this is where every cancer family is asked to choose their route of perspective.
That day we made the choice to carry a cup half full in our son's cancer diagnosis. As parents, we realized Karter was still so young and still developing his own view of the world. We wanted him growing up with parents that saw the silver lining in the bad times. Did we worry? Did we let the fear of "what ifs" creep in? Of course, but never enough to cloud the perspective for Karter and our 4 year old daughter Khloe. We had our moments, but we continued to push them to the back of our head, our kids deserve nothing less.
Now I want you to picture your favorite season during the year. Do you love summer? Are you the type of person who runs to the beach when times get hard? Dipping your feet in the warm water and feeling the sand rush over each toe as it relaxes your worries. Our family thrives in the springtime, when the windows are open and the breeze is all we need to feel the comfort over the next horizon. Did you know there are currently over 15,000 newly diagnosed children in hospitals right now unable to feel that breeze. Hospital windows don't open, that breeze that calms your soul is not tangible for these families.
Our family lived in a hospital room for 154 days while our son fought cancer. For 154 days his only access to the outside world was stepping on a little piece of artificial grass that encompassed a healing garden on the 3rd floor of the hospital, and even that was unsafe many times throughout treatment for him. Karter's type of leukemia was aggressive which meant aggressive treatment, which also meant aggressive precautions during treatment. Each round of chemo included him staying in the hospital from 30-40 days at a time. He would receive chemotherapy typically the first week of admission and that was the highlight of Karter's life. Yes, you read that correctly. During chemotherapy, the medicine he received would ravage through his body searching and destroying every cancer cell found but his counts wouldn't drop until usually the second week. The first week despite all of the chemo side effects (which were terrible), Karter was allowed to venture to the healing garden. His counts were high and safe enough to be outside and near other families. At 16 months old, Karter's face would light up when he saw the nurse bring him a mickey mouse mask, he knew that mask meant he was going outside. As soon as we got to the healing garden, Karter would take his shoes off and lay in the artificial grass and move his hands in a snow angel pose while he took deep breaths through the mask. Those moments fueled us for the remaining three to four weeks of isolation we were gearing up for. We would be asked to do this every month thereafter for each round of treatment. Those moments as a parent to a child with cancer were equivalent to opening a window in springtime, or the warm water and sand between our toes at the beach. They were everything to us.
I am sure you have recently seen a lot of changes happening in the world, and many cancer families have shared their comparison stories of isolation and social distancing.  These stories are not told to tell you to suck it up, but rather should be a tool in helping you gain perspective. Times will be hard for now, allow yourself to be an optimist for the coming weeks ahead. Take a moment to be grateful for your health, for your ability to open a window to feel the breeze, and also for the family you are allowed to spend time with right now. There are families right now that would give anything for those luxuries, for the ability to just BE without the fear of the unknown ahead. Life is so beautiful when we make the choice to choose joy over fear.
I challenge you today to stop and smell the roses, let the rain wash away a moment of concern for you. I challenge you to replace your fear of the unknown, and remember what you do know. Stop and feel the carpet between your toes and remember there are families right now rushing to put slippers on because they don't want to feel the cold hospital floors under their feet. If you are in a home of love and imagination – you have the ability to take deep, deep, deep breaths of fresh air- I challenge you to know you have it all, and tomorrow is a new day- Choose joy!