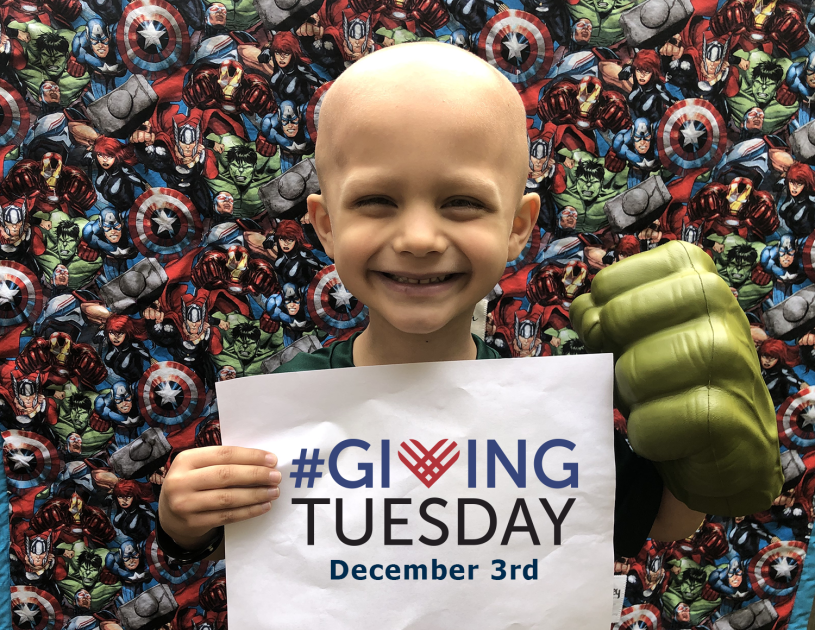 Meet 5-year-old "Smiley" Riley. He was diagnosed with high-risk neuroblastoma on Easter 2019. He is currently in the hospital for upcoming treatment but wanted to help ACCO raise money on Giving Tuesday in honor of kids, like him, with cancer!
#GIVINGTUESDAY is December 3rd. Donate Today »
First comes Black Friday. Then Cyber Monday. Then it's #GivingTuesday, the day when people around the world give back! Help us continue to provide free resources to kids with cancer, their families and survivors.
PLUS, our partner, Jel Sert, will match every donation up to $1,000! That means your donation will make twice the difference.
Here are ways you can give back on Giving Tuesday –
1 – BUY A PERSONALIZED GOLD RIBBON
Now through December 6, make a $5 donation and you'll receive a personalized gold ribbon in honor of your childhood cancer warrior! Ribbons will be placed on the National Awareness Tree in Newport Beach, CA from December 18 – 22 and then sent to you after the event. Ribbons can only be purchased by clicking this button. Buy Your Gold Ribbon »
2 – DONATE THROUGH ACCO
Make a tax-deductible donation through ACCO's website! Any donation amount, small or large, will make a difference for kids with cancer. Help us reach our $1,000 match! DONATE ON GIVING TUESDAY »
3 – DONATE THROUGH FACEBOOK or START A FUNDRAISER
Facebook makes it easy to make a donation or start a fundraiser. Go to the American Childhood Cancer Organization Facebook page to make a donation or click here to start a Facebook fundraiser!
Set your fundraiser end date after December 3rd, then share your fundraising page with your friends and encourage them to donate for #GivingTuesday. 100% of Facebook donations go to ACCO.
4 – SMILE with AMAZON
Did you know each time you make a purchase at Smile.Amazon.com, Amazon will donate 0.5% of the purchase to the American Childhood Cancer Organization?
5 – RAISE AWARENESS WITH YOUR #UNSELFIE
Help us raise awareness during #GivingTuesday! Print out your #Unselfie sign, write down why you're giving/supporting the American Childhood Cancer Organization (ACCO), snap a selfie and post it to social media.
Make sure to tag ACCO so we can see it! #UNSELFIE SIGN »
Help us raise funds and awareness on #GivingTuesday…because kids can't fight cancer alone.