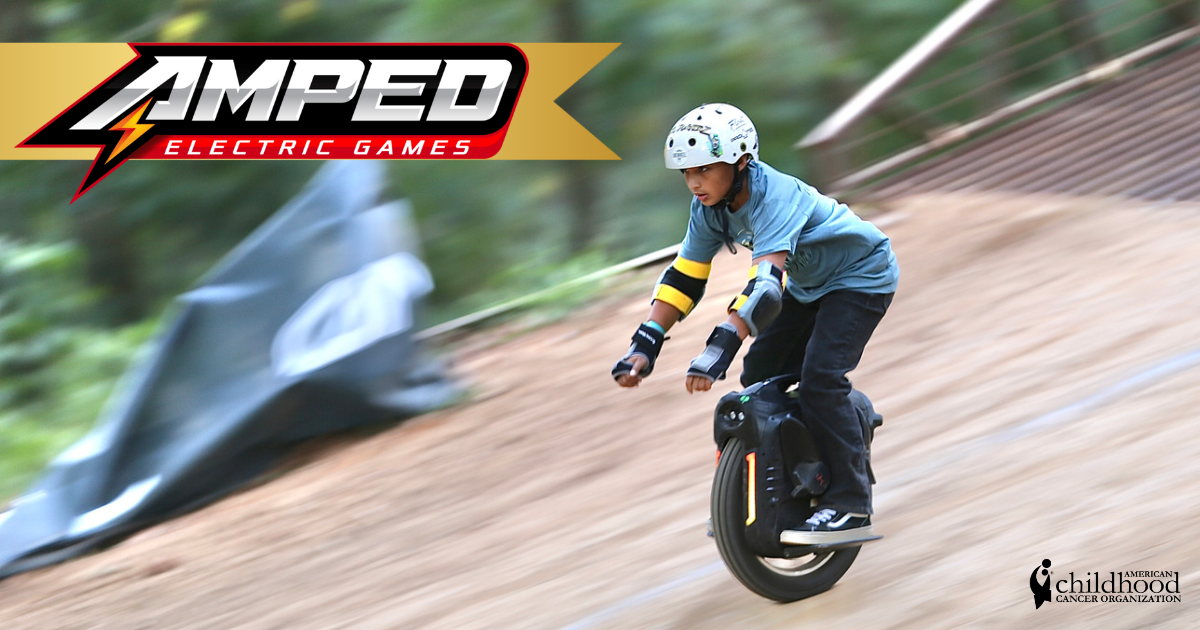 Since 2022, Amped Electric Games has raised awareness and funds for kids with cancer at their races across the United States. Their first event promised big jumps, high flying thrills and an unparalleled time.  With more than $7,500 raised, Amped is committed to helping raise funds one race at a time.
IN SEPTEMBER: Amped Electric Games continues to support kids with cancer in their sixth race to benefit the American Childhood Cancer Organization (ACCO) on September 1 through September 3. During the event, riders will be invited to race down Coler Mountain and two trails, the Family Flow and Thunderdome. Personal electric vehicles (PEV) will take center stage with Onewheel, Electric Unicycle, and ESK8 racing.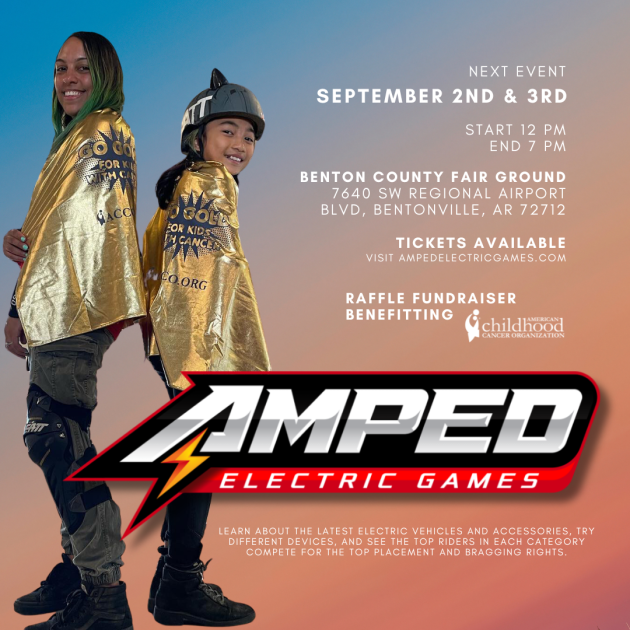 Amped Electric Games plans to fundraise during this race and asks for donations for a raffle entry with no limit to how many entries a person can purchase. On September 3, 2023, the donations will close and one lucky person will be chosen to win! 100% of the proceeds from the raffle will go directly to supporting families of children afflicted with childhood cancer. 
Last September, during Childhood Cancer Awareness Month, Amped Electric Games held a very successful GO GOLD® event while showcasing the PEV industry. Amped Electric Games set their fundraising goal for $25,000 in 2023 and they are well on their way. 
"ACCO is thrilled to work with Amped Electric Games again. Childhood cancer doesn't just happen one month out of the year, and Amped has helped raise awareness year-round. With September being such an important month to this community, we are happy to be expanding our reach further than before. Since the start, Seth zoomed into ACCO's events calendar determined to help," said Blair Scroggs, Public Relations Coordinator of The American Childhood Cancer Organization. "We look forward to working with them for many years to come!"
Attend the next event, donate or watch their live stream today!
---
About Amped Electric Games:
At Amped Electric Games, we dare to dream big and inspire change through the electrifying world of personal electric vehicles.
Driven by our unwavering values of abundance, community, giving, growth, leadership, inclusivity, and safety, we are united in our mission to elevate the sport, bring people together, and make a positive impact on the world.
We are more than just a group of enthusiasts, we are a community of champions who believe in the power of play, passion, and perseverance. We believe that by embracing our values, we can create a brighter future for the sport and for each other.Together, we will ignite the fire of excitement, foster an environment of growth, and unleash the limitless potential of personal electric vehicles.
Amped Electric Games is driven by a set of core values that reflect our commitment to building a thriving, community-driven environment for personal electric vehicle (PEV) enthusiasts. These values are the foundation of our organization and shape everything we do, from hosting events and broadcasts to supporting communities and our sponsors.
Aped Electric Games heard about the American Childhood Cancer Organization from one of their riders, Christina, after her son was diagnosed with an Atypical Teratoid Rhabdoid Tumor. You can read her story here. (please note, this story will be available on August 28, 2023)