The story detailed below is an account written by Emma and her mother. Emma is a survivor of medulloblastoma and enjoys every day.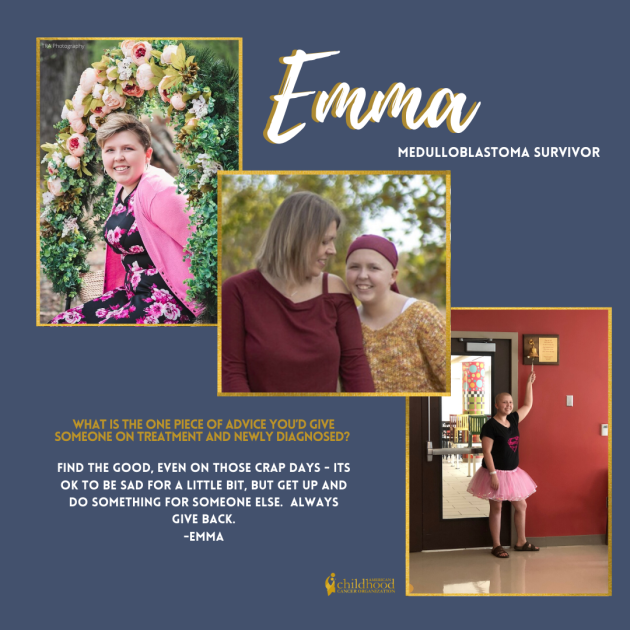 One weekend with my Dad, the headaches I started having had become more frequent vomiting without nausea. One Saturday at my Dad's, I couldn't get out of bed my head hurt so badly. I threw up in the bed. Dad took me to the ER but they sent me right back home. Six hours later, I hadn't improved so we met my Mom at the hospital. The doctors ordered a CT scan where a mass was found and that night I flew to Oklahoma City to start treatment. A shunt was placed to take pressure off my brain when we got there. The next few days were spent testing and trying to decide what happens next. We knew this was not a week-long hospital stay – we knew we were on a journey.
While on a clinical trial, my first port was placed. I had 30 treatments lasting about an hour while my head was bolted to a table. I didn't need any sedation.
Isolation was hard to get through. People and even family forget about you leaving you depressed, feeling rejected and not good enough. Emma's mom said, "depression set in really hard, but our OK Kid Korral Family got Emma interested in working the front desk. She would help give tours, participate in events to raise money and raise awareness for different organizations. Emma discovered what her true calling from God is – to help other kids going through what she has been through, and she wants to be the next director of OK Kid Korral."
Emma rang the radiation bell on October 5, 2018 and the chemotherapy bell on June 20, 2019.
Things that are awful and aren't fair to anyone can be your biggest blessings. If you don't know – ask. If you need something – ask. But you have to pay it forward when its your time to give back. Always be a giver.
ACCO provided books of information and hints on how to make it through chemotherapy. This was so beneficial. You guys thought of everyone and everything – Blair keeping up with me and Mom has meant a lot as well.
After cancer, I am doing everything I can possibly think of!!!! School is out for the coronavirus, but before we were quarantined, we had just made a dream of mine come true. I had a passion project for a 'HomeGoods Drive" for my middle school for the Toby Keith Foundation. We collected 631 items and filled the board room!! My mom and stepdad loaded everything and we took it to OKC. Then we took doughnuts to the winning classroom! It was the last day of school before Spring Break (and then for the year). I painted a piece for the Jimmy Everest Foundation's Art With A Heart which sold for $630, and have new ideas for new projects.
My goals and plans were just to make A's, keep busy in school and continue to be involved in projects that create positivity and in helping others. This is my life's calling.
What is the one piece of advice you'd give someone on treatment and newly diagnosed?
Find the good, even on those crap days – its ok to be sad for a little bit, but get up and do something for someone else. Always give back.
Read Emma's Gold Ribbon Hero story here.

Together, we can make a difference.
Donate today because kids can't fight cancer alone®.