The story detailed below is an account written by Kaydence's mom about her journey with Pre B-Cell ALL. She is now enjoying being a "normal" kid.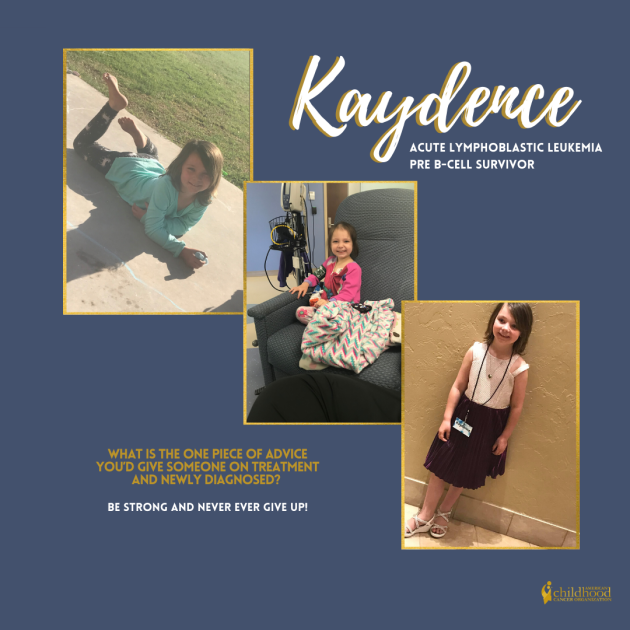 After bruising extremely easily, she was complaining of leg pains and having nosebleeds. "On July 3, 2018 I noticed her color was really off. I had a gut feeling if I waited for her primary care doctor to return from vacation it would be too late. We were diagnosed in the ER," remember's Tarah.
Treatment started immediately at a children's oncology group protocol for high risk diagnoses. Due to JAK2 and a philadelphia (ph) chromosome mutation, it wasn't enough so we were moved to a very high risk protocol. When that wasn't enough, we were moved to CAR T-cell therapy.
Kaydence went into septic shock due to e.coli two weeks after diagnosis. She spent 10 days on life support and was not expected to survive, but she did. She went into anaphylactic shock due to her T cell infusion – she was the first patient in Dallas CMC to go anaphylactic with her own cells.
Kaydence has been in remission since March 13, 2019. Her bell ringing ceremony was delayed to the covid-19 pandemic.
"ACCO has helped us spread awareness, exactly what any oncology family desires. They spread awareness of our stories and that pediatric cancer funding is only 4% of the entire budget."
"Donkey" wants to enjoy the things she's missed over the past couple of years. She wants to start racing cars, play sports and swim in the ocean. She is enjoying being a "normal" kid.
What is one piece of advice you would give someone on treatment or newly diagnosed?
Be strong and never ever give up!
Read Kaydence's Gold Ribbon Hero Story here.

Together, we can make a difference.
Donate today because kids can't fight cancer alone®.