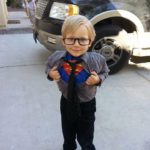 The story behind Hope 4 Heroes begins in June of 2014. Logan, a previously happy and healthy five year old, was diagnosed with a brain tumor and the Green family's world changed forever. Initially Logan's parents, Crisandra and Richard, were told that the tumor was inoperable and they should prepare to say goodbye to their son. To say they were devastated is a vast understatement. Thankfully, a friend encouraged them to get a second opinion and things changed from devastation to hope when they found a surgeon confident that he could remove the tumor. Please click here to watch a video about Logan's amazing journey.
Countless people supported the Green family and now they want to support others. They know the power of connection. Hope 4 Heroes became a Founding Hope Program under the American Childhood Cancer Organization (ACCO) to offer the support and assistance that is crucial for families to thrive and give them the strength to fight like super heroes.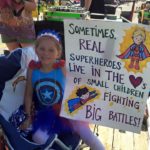 Hope 4 Heroes' mission is to serve families in Colorado who have a child who has been diagnosed with cancer. From the experienced perspective of those who have been there before, Hope 4 Heroes provides information, advocacy, and when needed, acts as a liaison for families who hear those devastating words, "your child has cancer." Families need to be supported to be the best advocates for their child. Our goal is to strengthen families so that they can support their own super hero.
Examples of what we provide:
• ACCO Comfort Kits for families with comfort items, information, and materials to educate families so that they can make the best possible decisions for their child;
• Peer-to-peer support to strengthen parents from the perspective of those who uniquely understand the challenges they face;
• Informal gatherings and getaways that provide respite from demanding treatments and create crucial connections between families;
• Hope – as families connect with each other and share their stories;
• Much needed resources to support families with the unexpected and overwhelming financial burdens that accompany treatment for childhood cancer;
• Support for the entire family, including siblings, through the treatment process and beyond because childhood cancer affects everyone;
• Hospital visits and treats to brighten long, hard days;
• Awareness of childhood cancer and its long-term effects as well as the need for better, less toxic treatments.
Please Join Us – You can make a difference!
Hope 4 Heroes Photo Gallery
[mpa:id=8, header=false, desc=false]

Ways to help:
• 5K run – Stay tuned for more details about this event…
Volunteer – contact us at hope4heroes@acco.org
Donate to support families in crisis
Follow us on Facebook and share 
Contact Information
Crisandra Green
Phone: 719-465-4977
Email: hope4heroes@acco.org