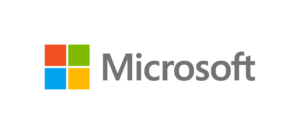 Microsoft Jumps on the PJammin® Bandwagon…and It's Amazing!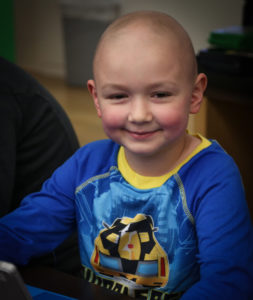 The American Childhood Cancer Organization (ACCO) would like to thank our partner – Microsoft Corporation – for hosting an incredible PJammin® for Kids with Cancer fundraising event!

Organized by Microsoft Gives, the charitable arm of the Microsoft Corporation, this amazing PJammin® event brought together local childhood cancer warriors, Microsoft employees, and the public—all wearing PJs—in an outpouring of support for children facing a cancer diagnosis and their families! Kicking off with a private event just for children in treatment for cancer at Santa Rosa Hospital in San Antonio, Microsoft hosted public parties at two of its local stores—The Shops at La Cantera Microsoft store in San Antonio and The Domain Microsoft store in Austin—to anyone and everyone interested in helping kids with cancer. See the video below: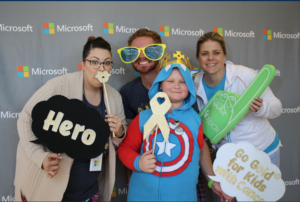 "An overwhelming success" is the only way to describe the outpouring of support shown by Microsoft employees and the public! The parties featured free Xbox play stations, Just Dance stations, and other family-friendly activities, while local childhood cancer families got the opportunity to share their stories in order to raise awareness about childhood cancer!
In addition to helping bring awareness the childhood cancer community, donations raised during this two-day event support ACCO's mission to provide educational resources and learning tools free of charge to families facing a childhood cancer diagnosis.
Will You Take the Challenge – and Host a PJammin® Event at Your Company?
Corporate PJammin® events are a fantastic way to bring your team together in support of a great cause: helping kids fight childhood cancer. Dress code: Pajamas!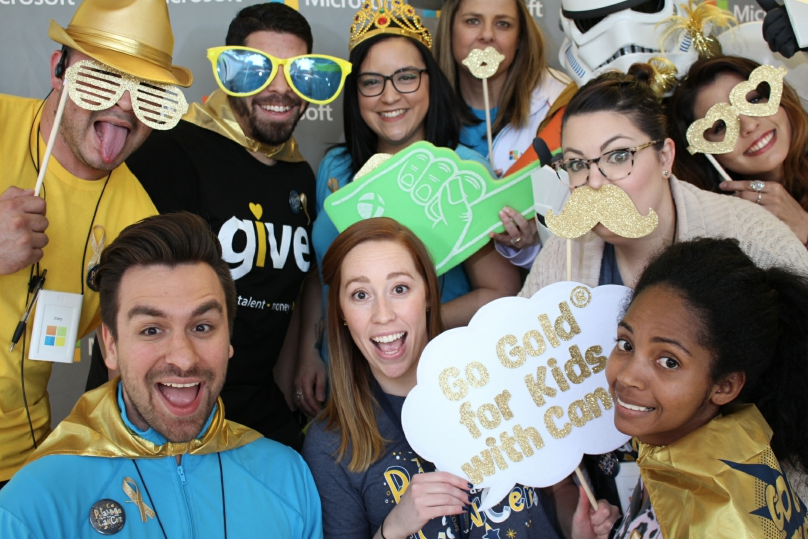 ACCO's Signature Corporate Events Program offers an easy, fun, and flexible way to incorporate childhood cancer awareness into your unique cause marketing strategy. How you implement the program is up to you: for example, you could host a public event to engage with clients and/or customers or you could keep it in-house to promote internal team-building. Every single one of our Corporate events is unique—whether it's a PJammin® party, a Go Gold® for Kids with Cancer event, or something else altogether—reflecting the values and personality of the organizer while raising awareness and helping kids with cancer at the same time!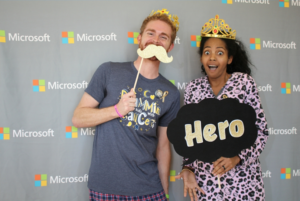 In addition to the amazing video of the Microsoft PJammin'® parties featured above, we encourage you to take a look at some other recent Signature Corporate Events at Rock Bottom Restaurants (https://www.acco.org/rock-bottom/) and Jel Sert, maker of Otter-Pops and Fla-Vor-Ice Pops  (https://www.acco.org/corporate-events/).
Don't know where to start? ACCO's dedicated Program Coordinator will work directly with you and your staff to help you develop an event that matches your company values and brings out the very best in your employees!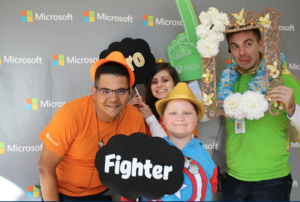 The American Childhood Cancer Organization is a non-profit organization dedicated to providing high-quality educational resources directly to families who have a child diagnosed with cancer, to assist them in making informed treatment decisions during the difficult childhood cancer journey. Our resources are always free to families coping with childhood cancer! We can only provide these vital materials through the generosity and support of our community and corporate partners.
For more information about ACCO's Signature Corporate Events program, please visit our website at https://www.acco.org/corporate-events/.
A very special shout-out to Kevin Graham with MoJo Lab for capturing the pure joy that was had at our Awareness Events in Texas.