TREATMENT OPTIONS FOR CHILDHOOD CANCER
Treatment for childhood cancer can be chemotherapy, radiation, and/or surgery.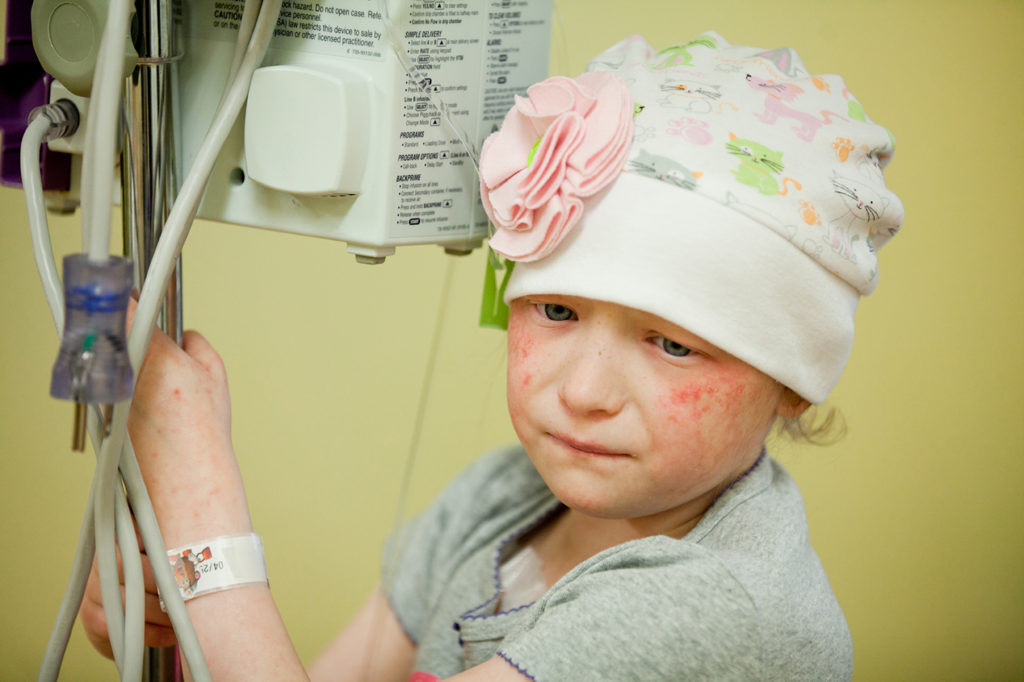 Which treatment strategy is chosen depends on the type of cancer and to some extent the treatment facility. For some of the more common childhood cancers, parents are offered a standard treatment plan for their child, or a "phase III" clinical trial. Other types of cancers, especially the rare cancers and relapsed cancers, do not have as well-established treatment plans, and parents might find that their child's cancer would be treated differently at a different institution.
What is the best treatment? What is a clinical trial? Should you enroll your child on a clinical trial? Where should you take your child for treatment? All of the treatment strategies have immediate side effects: How do you help your child deal with the side effects of treatment?
The sections linked to below (and at the left) help parents answer these critical cancer treatment questions. Treatment overviews specific to individual cancers are given on the Types of Childhood Cancer page.

CHILDHOOD CANCER TREATMENT CENTERS
Childhood cancer is best treated at a pediatric facility that has extensive experience in the treatment of these cancers and that includes a multi-disciplinary team to support all facets of treatment.  For more information on facilities specializing in childhood cancer, please see:
CLINICAL TRIALS FOR CHILDHOOD CANCER
A higher percentage of children than adults enter clinical trials for treatment of their cancer. Thus, it is quite probable that a parent will have to decide whether or not to enroll their child in such a trial. The ACCO provides information on clinical trials, discusses informed consent, and guides parents to sites that list clinical trials here:
TREATMENTS FOR ADOLESCENTS AND TEENS
Statistically, teens have a better survival rate if they are treated on pediatric trials at pediatric hospitals. However, many teens still do not go to such facilities for treatment, and if they do, they often feel too old for these young-child centered facilities. The following articles address these issues.
TREATMENT MEDICAL ISSUES
Many medical issues come up when your child is on treatment for childhood cancer. Below are links to information on many of these issues.
BONE MARROW, STEM CELL AND CORD BLOOD TRANSPLANTS
Some childhood cancer treatment plans include some type of a stem cell transplant. Follow the link below for more information and resources on these treatments.
PROTON THERAPY
Proton therapy is an advanced form of radiation used to treat many types of cancer, including childhood tumors. Because proton therapy has the ability to deliver a powerful, precise dose of radiation directly to the tumor while sparing surrounding healthy tissue it is ideal for treating many types of pediatric tumors. The limited amount of radiation exposure to healthy tissues that results from proton therapy can reduce the risk of short- and long-term side effects and is particularly important in children because their developing bodies are especially sensitive to the effects of radiation. For more information, visit MDAndersonProton.com.
COMPLEMENTARY AND ALTERNATIVE MEDICINE LINKS
Often, parents are interested in supplementing their child's treatment with ways to ease the effects of chemotherapy, such as exercise therapies, mental imaging, health food supplements, etc. Some parents – especially if conventional treatment has failed – are interested in therapies that are not offered in the mainstream medical practices. The following ACCO web page guides parents to useful web sites.
LEARNING MORE ABOUT YOUR CHILD'S CANCER
Where and how to research your child's cancer and its treatment.