Please Meet Logan Green (Age 7) and his Family!
Mom- Crisandra Green
Location: Colorado Springs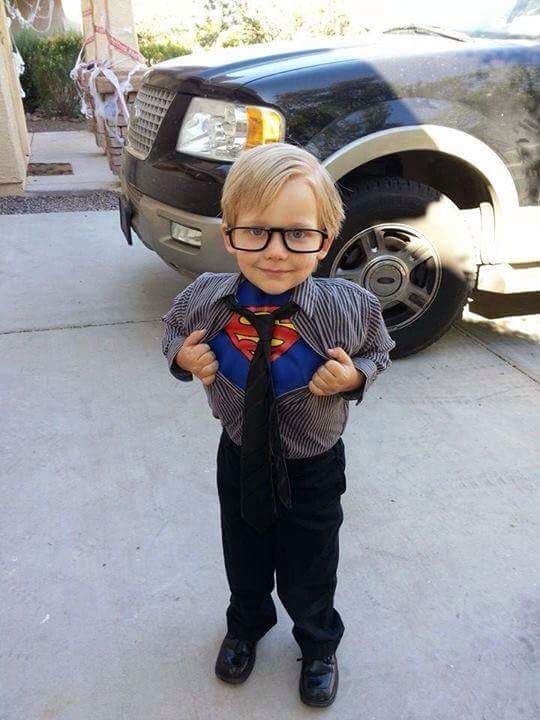 June of 2014 our family's lives changed forever.  Logan, our previously happy, healthy, 5 year old little boy suddenly collapsed and became unresponsive. He was immediately rushed to the hospital where they did a CT scan of his brain and gave Logan's parents the most devastating news possible. The doctors had found a golf ball sized tumor on his brain stem and it had hemorrhaged causing Logan to become paralyzed on his left side.  Logan was first given no chance survival past three days and his tumor was thought to be inoperable. Logan's family was devastated.  Luckily, his parents were given a second opinion and that changed everything.  The new Surgeon suggested we try removing part of the tumor hoping to at least extend Logan's life. On June 25th, 2014 Logan went in for surgery with no one knowing what the outcome would be. After a grueling 8 hour wait the surgeon came out with a grin on his face and the most incredible news we ever could have imagined… They had removed the entire tumor. He was Cancer free!  Logan is a real life MIRACLE!  The past two years have been one trial after the next for our brave boy.  He has had to relearn to walk, talk and even swallow all over again, but he does it all with a big smile on his face and shows the world that you can conquer anything if you have faith and put your mind to it.  This past year our sweet Logan has suffered from multiple strokes caused by the radiation therapy Logan was given to help make sure his cancer was gone. He was diagnosed with a new condition called Moyamoya and underwent a 2nd major Brain Surgery March of 2016.  Although it has been a very hard year on our family, we have become stronger and closer because of it.  Logan will always have battles to fight but we will be here and ready to stand strong next to him.  He is an incredible boy and we are so proud to call him our son.
Logan also has 5 amazing siblings who are literally his everything.  This journey has been really hard on all of them but they have taken everything head on with smiles on their faces and support in their hearts for their Brother, never complaining.  The bond between our children has grown so strong and is like nothing we have ever seen.  They love spending time together playing outside and they especially love sports and camping.
Below is the wish list for Logan and his siblings.
If you are interested in helping to fulfill a gift wish, please contact Andrea by email at awright@acco.org or by phone at 1-855-858-2226 ext. 107.
Ashden- 13 year old Boy:
Wireless Ear Buds
Gamestop Gift Card
Game Chair
Amazon Gift Card
Survival Camping Gear
Kadance- 10 year old Girl:
Instant Digital Camera
Project MC2 Mckala's Light Bulb
Project MC2 Bath Fizz
Yummy Nummies Mini Kitchen Soda Shoppe
Pottery Cool Studio
Westden- 9 year old Boy:
Pokemon Twin Comforter (Wal-Mart)
Star Wars Lego's
Pokemon Cards Box Set
Star Wars Aircraft or Remote Control Car
Stickbot Studio Pro
Logan- 7 year old Boy: 
Minecraft Game for XboxOne
Minecraft Legos
Skylanders Imaginators for XboxOne
Super Mario Remote Control Car or Hot Wheels Race Track
Hexbug Battlebots
Peyton- 2 year old Boy:
Playdough Set
Lego Duplo Superhero set
Tonka Type Truck
Little People Sit and Stand Skyway
Fisher Price Little People
Wyatt- 6 Month Old Male:
Carters Clothing Store Gift Card
6-9 Month Outfits
6-9 Month Pajamas
Activity Chair
In addition to the Rock Bottom staff and guest, the American Childhood Cancer Organization is also extending this sponsorship to our online support community. If you or anyone you know would like to also sponsor a family by selecting a gift, please contact Andrea by email at awright@acco.org or by phone at 1-855-858-2226 ext. 107. Please deliver or send unused and unwrapped gifts prior to December 21, 2016, as they will be wrapped and delivered to the families by December 23, 2016.