The story detailed below is an account written by Victoria, a Stage 4 Chondroblastic Osteosarcoma survivor. She is interested in going to beauty school and is currently saving up for college.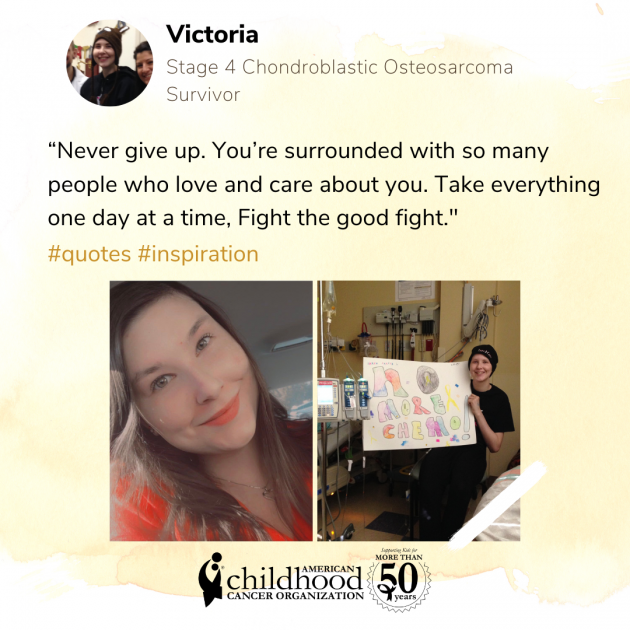 It all started when I was playing volleyball. I thought I pulled a hamstring, but after many doctor appointments and multiple visits to physical therapy, I finally got an MRI. The MRI showed a massive tumor in my sacrum wrapped around my left leg which was causing severe pain.
I had chemotherapy and proton beam radiation. I was very sick. The chemo wasn't working at the time and my tumor was progressively getting worse. The tumor spread upwards to my spine and doctors didn't think I would make it past six months. Thankfully, I saw multiple doctors in Boston. There, I received four months of daily radiation.
I still have my tumor. It is stable now, but due to high amounts of radiation I suffer from chronic back pain. In addition, I have nerve damage, a limp, numbness and drop foot in both legs. I just recently had a second surgery to correct my toes due to radiation. When I was in active treatment, I had two ports so that I could receive two chemotherapies at the same time. 
Since day one, ACCO has been so supportive of me and my family. They've raised money, held events and welcomed us in like family.
I am 20 now. I struggle everyday with my disability but I just got my drivers license and I'm saving up for college. I really want to get into the beauty business and do nails.
I didn't know where to start after treatment ended. I was lost for a very long time, My main goal was to finish high school and get my diploma which I did in May 2018! After that I just took each day a day at a time.
Read more stories here: https://www.acco.org/survivor-stories/