Kinley (Kin) was diagnosed with Acute Lymphoblastic Leukemia in January of 2011. She went through 27 months of treatment, completing her treatment in 2013. During her treatment, we advocated for more cancer research funding as well as help begin a movement for a Bald Barbie doll to be made by Mattel. Kinley had a zest for life, a drive to always do her best, and the motivation to achieve her goals.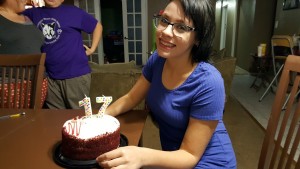 She began high school and took advantage of any opportunities given to her. This included an early college high school, EMT training, and participation in cheerleading and mock trial in her spare time. Kinley was a few weeks shy of being 4 years off treatment when she suddenly relapsed at the age of 17.
On April 25, 2017, we got the news that her cancer was back but this time in her C.N.S. (Central Nervous System). She was set to graduate High School within a month, instead, she was getting back into the thick of treatment. On April 28, 2017, she began chemotherapy and radiation while her friends prepared for prom. On May 6, 2017, her friends would attend Grad Night while she was in the ICU after going into septic shock. On May 21, 2017, after several bouts of sepsis in a two-week period, she left this earth.
We are honoring Kin in the best way we know how and that is helping other children and their families while in treatment. We know that families can be financially devastated during treatment due to many factors like extra costs of medical bills, loss of income, as well as the extra cost of things such as travel, food and hospital parking.
We hope that one day because of Kin's Kids we will help families across the nation to make treatment easier in the financial aspect. Our goal initially will be to help in small ways like gas and food costs for families. If donations allow, we will be broadening to help families with larger costs.
Kin's Kids Photo Album