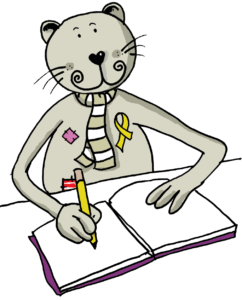 The American Childhood Cancer Organization is hosting it's first ever Halloween Cozy Coloring Contest!!!
Starting October 7th through the 20th we will be accepting colored submissions of the Cozy images below. Please send a scan or photo of your child's submission to cperry@acco.org, message it to our Facebook page, or mail to the address below. When submitting your colored page, please indicate the child or teens name, age group and type of cancer they are fighting or have fought. We will have 3 age groups:
1-4 Years
5-10 Years
11-18 Years
We will then post the submissions for voting October 21st – 28th and the top 3 that receive the most votes in each age group will receive a Go Gold custom prize package and all submissions will be added to our Halloween 2015 Cozy Coloring Album! We can't wait to see your artist's interpretation of Cozy Cat's costumes!
You can click the below link to download and print off your child's favorite version of Cozy to color. Only five submissions for each child will be accepted, so send in your very best!
Princess Cozy          Vampire Cozy             Pumpkin Cozy          Super Hero Cozy           Cozy the Port-a-Cat
Also, please remember that each year thousands of brave childhood cancer warriors are not able to go Trick or Treating. If you are interested in raising awareness this Halloween please consider printing the below flyer to hand out with your Halloween candy. Please click the button below to print the flyers.
Trick or Treat Flyer »
If you cannot send your page electronically, please mail it in to the address below:
American Childhood Cancer Organization
Attn: Cozy Coloring Contest
6868 Distribution Drive
Beltsville, MD 20705