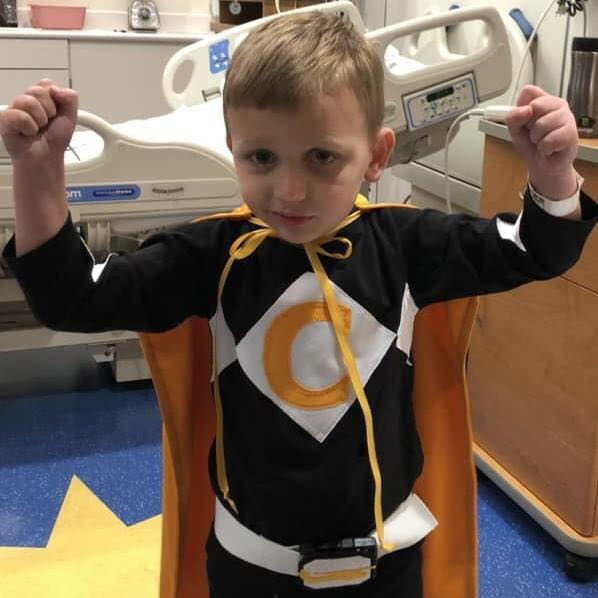 Meet courageous Colton Whisler, a four-year-old warrior currently battling Perimeningeal Rhabdomyosarcoma, otherwise known as RMS. We were pleased to connect with Colton's family through The Mark White Show, a popular radio program in Alabama. 

In October 2018, Colton had experienced a facial droop that was originally diagnosed as Bell's Palsy. Stephanie Whisler, Colton's mom said " we were told it was harmless and it would go away. He began crying and saying his ear was hurting. He then told us the floor was spinning." At this point, Stephanie knew something was wrong with Colton. She decided to take him to his pediatrician at least once a week for the next three weeks where they treated him for a bad ear infection. Colton was then referred to an ear, nose and throat doctor (ENT) for tubes but when the pediatrician called him, the ENT thought it was something more. The ENT ended up meeting the Whisler family on his day off and found out that it wasn't just an ear infection, it was a tumor. "We were in a state of shock, it was so hard to believe that our sweet perfect baby would be beginning the fight for his life," said Stephanie.
Colton will be receiving approximately 15 months of chemo and radiation treatment and 30 treatments of proton therapy.  According to his mom, "his age is both a blessing and a curse. He is young enough that he doesn't really understand the severity of his situation, but he also can't verbalize what he is feeling. Being away from his big brother, Ty, has been one of the hardest parts of this for both of them." Since Colton's tumor is in the middle of the ear, it is considered inoperable. The Whisler's have discussed end of treatment surgeries consisting of a cochlear implant and surgery to correct his facial droop.
Chemotherapy hasn't been easy for Colton either. His mom told ACCO, "his journey started off really rough. The first round was incredibly hard on him. The amazing doctors and nurses have since come up with a strategy that helps to keep his nausea at bay."
Colton is currently in the hospital receiving treatment. He is experiencing neuropathy of his feet due to a weekly drug he takes. He is in physical therapy twice a week and will be receiving braces for his legs soon. According to Colton, "courageous people never give up and nothing is going to steal my joy.''
For more about Courageous Colton Whisler: https://www.facebook.com/Courageous-Coltons-Crew
For more information about Permeningeal Rhabdomyosarcoma please visit: https://www.acco.org/sarcomas/
We can help! For free resources please visit: https://www.tfaforms.com/4699752
Together, we can make a difference.
Donate today because kids can't fight cancer alone
®
.

About American Childhood Cancer Organization
The American Childhood Cancer Organization was founded in 1970 by parents of children and adolescents diagnosed with cancer. As the nation's oldest and largest grassroots organization dedicated to childhood cancer, ACCO is committed to shaping policy, supporting research, raising awareness, and providing free educational resources to kids with cancer, survivors, and their families. Additionally, ACCO is the sole U.S. member of Childhood Cancer International (CCI) and has helped support more than half a million families over the past 50 years. Help make childhood cancer a national health priority because kids can't fight cancer alone®. 
For more information about how ACCO can help your family, call 855.858.2226 or visit: