The American Childhood Cancer Organization is proud to be teaming up with Servier Pharmaceuticals as a grant recipient of their Patient Advocacy Program.
This Servier program recognizes the critical knowledge, resources and insights that patient organizations provide as well as their valuable work to improve the lives of individuals facing cancer.
A unique pharmaceutical group governed by a non-profit foundation, Servier Pharmaceuticals is a commercial-stage biotech company with current treatments for patients with acute lymphoblastic leukemia (ALL). ALL remains the most common form of childhood cancer representing approximately 3,000 new cases diagnosed per year in children under the age of 20 years.
Servier's unique non-profit structure and focus on patient advocacy make this partnership particularly exciting. ACCO was proud to provide leadership at a Patient Advocacy Roundtable at the U.S. Servier headquarters in January of 2019, sharing insight as parent advocates about the unique challenges experienced by children and family members from diagnosis through late effects experienced by adult survivors of childhood cancer.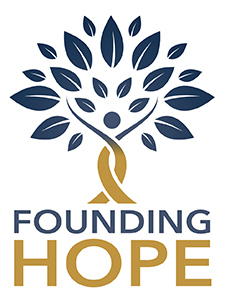 Through funding provided by Servier, ACCO will be expanding our Founding Hope chapters to new states across the country and provide education and training opportunities for current affiliates at an annual conference to be held in 2020. Through our Founding Hope chapters, ACCO meets the needs of children and families at the local level.
Servier + ACCO will also be teaming up to expand our state-level awareness initiatives to empower parents and children to use their stories to inspire change with policy makers at the state-level. Currently, only 3 states have allocated specific funding to childhood cancer research and 29 states have no mention of childhood cancer in their state cancer action plans. Together, state-by-state, we will work to overcome the national disparity between adult and childhood cancer research funding and make sure childhood cancer is a top public health priority.
ACCO is also excited to partner with Servier and expand our global nutrition program. Increasingly, pediatric oncology experts are elevating the role of nutrition in optimizing outcomes for children diagnosed with cancer. Research has shown that severe malnourishment at diagnosis and in the initial phase of therapy is associated with worse survival for childhood cancer patients. In the majority of low-middle income countries (LMIC) the prevalence of malnutrition exceeds 50%.
To address the nutritional needs of children with cancer in LMIC's, ACCO supports a pilot nutritional program at the Tikur Anbessa Specialized Hospital in collaboration with the Tesfa Addis Parents Childhood Cancer Organization in Ethiopia. The pilot program has delivered more than 2,329 meals for children being treated for cancer over the past 18 months. The program funds the salary of an in-hospital chef as well as provides for high nutritional food items including daily fruit, beans, vegetables, and milk.
For more information on this partnership and programs funded through this initiative, contact Jamie Ennis Bloyd MPA at jbloyd@acco.org.