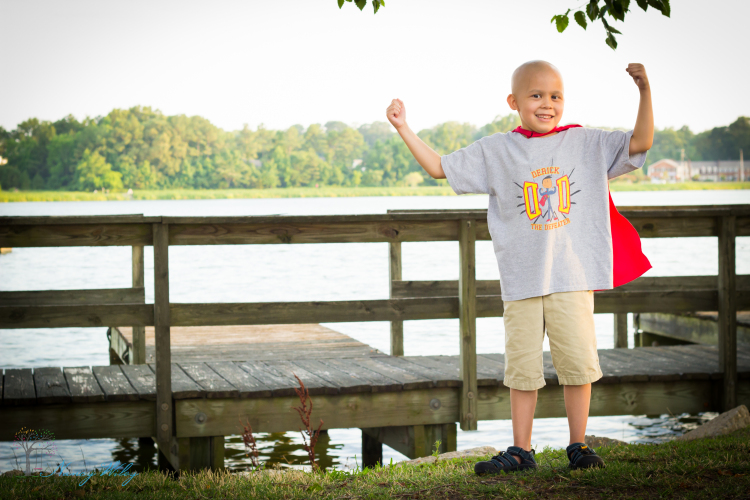 Derick Palmer, aka Derick the Defeater, always knew how to bring a smile to anyone's face. His love of sports inherited from his dad and his sense of humor from his mom. Derick's contagious smile and wittiness brought a lot of happiness to his family- the kind of happiness that they did not even know they were missing.
Derick was the ultimate boy. At a young age, he enjoyed hitting baseballs, throwing rocks down a storm drain, pushing his Hot Wheel cars down tracks for hours, and his favorite thing of all; flirting with all of the ladies. He was an all-around athlete, playing baseball, football, basketball, and even competing in a kid's triathlon by the age of five. Derick loved challenging everyone to the games of Monopoly and War, making every opponent groan in defeat by the end of the first round. Nerf guns were one of Derick's biggest passions. Whether at the hospital, at home, or the biggest Nerf War in Portsmouth, Virginia, he was always prepared for battle. His witty personality allowed him to keep up with his older sisters. Eventually, Derick surpassed them with his quick thinking words, always being sure to finish the conversation with, "you stink," even when he was too weak to get out of bed.
In the spring of 2013, Derick was diagnosed with Medulloblastoma, a fight that he stood tall against for almost 2 years. During treatments, there were more good days than bad. His average day usually consisted of school, playing with friends, laughing, and just being a kid. He found the good in the bad, when he got lemons he made lemonade, and never complained about his treatments. When Derick's cancer relapsed, he accepted it and continued fighting on until his body could not fight anymore.
Derick served as an advocate for other children with similar circumstances, always willing to speak to the kids about treatments and showing them and their parents that they have to be brave. He always volunteered selflessly whether it was to raise money for a cure or help those in need.
Our family and friends have taken a vow to continue Derick's fight against cancer. We want to share his way of life to always to push harder, live bigger, be stronger, and to comfort those in need. Since Derick was very passionate in fighting for a cure, we would love to share one of his hooded towels to children that are currently battling cancer.
When Derick was five years old, his mom made him two very special hooded bath towels. He loved to put the hood on, his hands in the handles, wrap it around himself and just giggle. After Derick was diagnosed with cancer, his bear and dinosaur towel became a very special part of him. After getting out of the bathtub, Derick would enclose himself into a cozy cocoon on the bathroom rug for at least five minutes to get warm. His mom's little creation always put a smile on his face, but most importantly, it always brought comfort, warmth, and familiarity to his heart.
Being a cancer-fighting hero is very hard work, and we want children that are diagnosed and going through treatment to have the comfort of one of these special hooded towels, in hopes of bringing a smile to their face and a "wink" to their eye.
Derick was a magnet with a big heart that drew in everyone around him. He was stronger, bigger, and braver than cancer could ever be. His loving and fighting spirit will live on in everyone who was touched by his incredible life. Live your life DERICK STRONG. Visit WISP's website here.
#LiveDerickStrong

#WrappedInStrengthProject

#WISP

#DerickTheDefeater