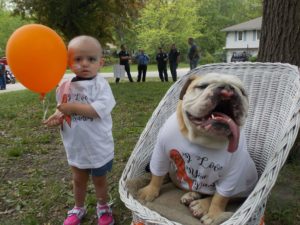 Paislee Mae Domino was born on April 11, 2015 in Kansas City, Missouri, with no health issues at all. Around June of 2016, her parents had taken her to Children's Mercy Downtown for a checkup, and within hours were told that Paislee had cancer. Days later they found out she was diagnosed with Acute Myeloid Leukemia, subtype M-7. Paislee endured 4 tough rounds of chemotherapy and was declared cancer free and in remission on August 6th. Her treatment ended November 13, 2016.
On January 6, 2017, Paislee's cancer was back so she and her family flew to Cincinnati, Ohio for a clinical trial. They were forced to move from their home and relocate for a few months so Paislee could participate in the trial. Unfortunately, the trial failed because her cancer was too strong. At this point, her family was informed that there were no more treatment options for Paislee and that she w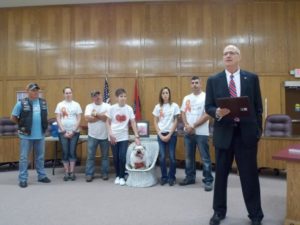 as living in her final days. Paislee's family was dedicated to making her last few weeks her best days by doing any and everything she wanted to do. Paislee soon became very ill and was hospitalized for her final week and a half before passing on May 4, 2017. She was truly a fighter!
Stanley is a 3-year-old English Bulldog who was born with a Bilateral Cleft lip, a curved spine, and deformities in his back legs but he was also BORN WITH A MISSION; a mission to make a difference. Stanley began using his challenges to teach children that it was ok to be different and to put an end to bullying while spreading the positive message of acceptance. Stanley also wanted to touch the lives of children born like him with clefts lips/palates and crippling diseases and began outreaches across the country. Through his mission, Stanley, has received a state and local awareness day proclamation for cleft lips/palates. Stanley reaches out to many other areas as well as he helps the teens, the homeless, the elderly, the disabled and even veterans.
Stanley and Paislee met at an event in Smithville, Missouri and these two tiny souls immediately became the best of friends. It was at this moment that Stanley knew he wanted to help children with life threatening diseases, such as cancer, in his local community. He wanted to show childhood cancer kids and families that they are not alone and that he will always be there for them. After meeting Paislee and hearing her story, Stanley took a stand against cancer. Through his stand against cancer, Stanley was given a local proclamation declaring Aug. 4th as Smithville Founding Hope Day and will soon be receiving a Congressional Proclamation for Stand Up For Stanley. After Paislee's passing, Stanley knew he wanted to carry on her hope, and memory and that is why "P.S. One More Thought" was created.
Our mission and vision:
To help local children and their families with their fight against cancer through providing valuable information and resources, spreading awareness and raising funds to assist with travel, food, and medical expenses.