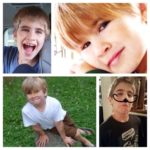 This Founding Hope Fund was created in memory of TJ Reilly & his #12YearsofAwesome! TJ was 12 years old when he lost his battle with gliomatosis cerebri- a rare, aggressive, spider web like brain cancer. A month before his diagnosis he was spending the last few weeks of summer on the beach but plagued by headaches. A trip to the eye doctor showed bulging optic discs. Within 3 days a horrible headache landed him in the ER. An MRI revealed the devastating news & he was immediately admitted to Children's Hospital of Philadelphia for observation.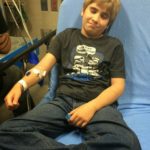 They told us they had no treatment & we could "try whatever." With the help of steroids TJ remained mostly stable. But this came with a cost- weakened muscles, mood swings and weight gain. This kid could do 40 pushups & 12 pull-ups so losing this ability was heart breaking to him. His main symptoms continued to be pounding headaches & vision changes – 4 different eyeglasses in 14 months. This past September his older sister found him having a grand mal seizure in the middle of the night. Seizures became a daily occurrence.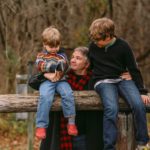 We made it through his Make A Wish trip & Thanksgiving. On December 26th, after kissing his dad goodbye, his mom took the kids for their traditional visit to Maryland to see more family. That night, in front of his siblings & cousins, he had a seizure that wouldn't let up. Another ICU admission showed more tumor growth. That was the beginning of the end. Within 2 weeks TJ went from having a nice Christmas to being on a ventilator, air lifted back to his home hospital, and a tumor that was now in the brain stem, twisting & no longer supporting life. The horrific decision was made to allow him to die with dignity. For 5 long hours 20+ family members and friends sang to him while his heart struggled to maintain life.
TJ was a happy, funny, kind, curious, smart kid refusing to let cancer stop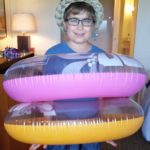 him! He LOVED his art classes, riding lessons, designing Lego and origami creations, nature, science, dancing, drawing, fedoras, scarves, Frank Sinatra, but most of all his family. One of his favorite topics to talk about was quantum mechanics of all things! TJ wanted to be an engineer, finish school early & study at one of the big engineering colleges.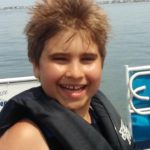 TJ's best feature: HIS HEART! He actually apologized to his mom  for "having to do extra stuff because he was sick" & saying he was "thankful for all the nice people he's met since being sick." He was just a great kid! His spirit is deeply missed but his family vows to keep him alive in a way that would make him smile. We have started Over the Moon to help other families battling childhood cancer and Angel families keep the fun in their everyday lives.
Below is a gallery of TJ and his journey.
[mpa:id=15,header=false,desc=false]