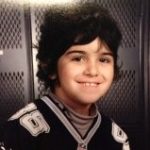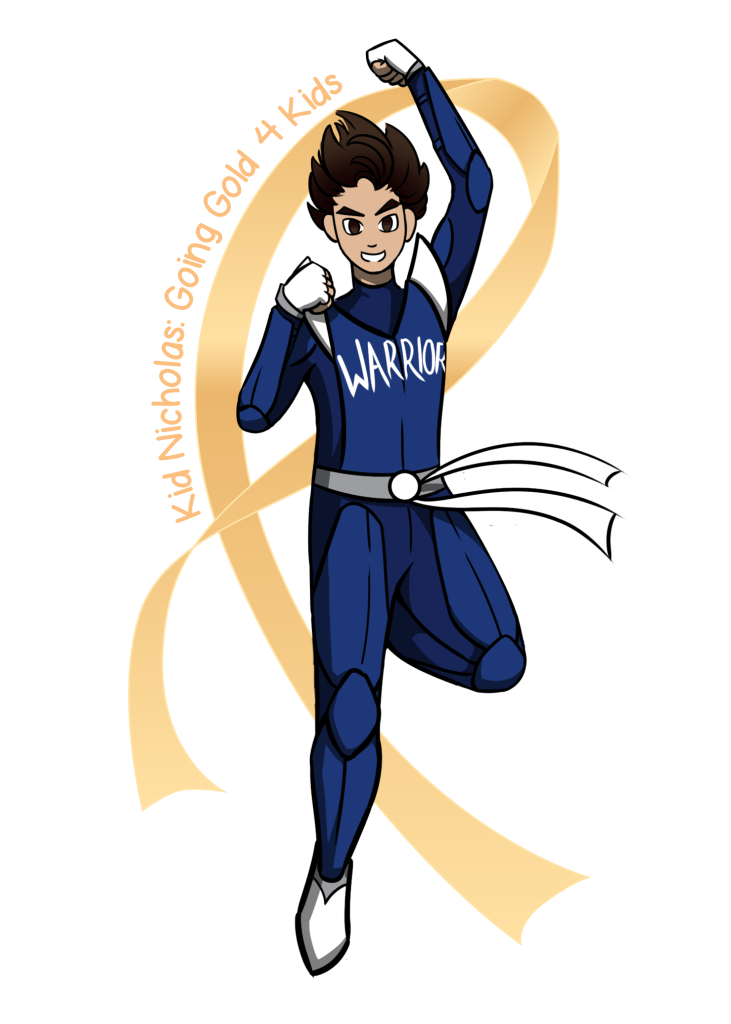 We started the "Kid Nicholas Going Gold 4 Kids" Founding Hope Program with the American Childhood Cancer Organization to raise awareness of childhood cancer and much-needed support for families living with childhood cancer.  I sincerely hope you will join my family and other advocates across the country to bring awareness to the reality of childhood cancer.
My son, Nicholas, was diagnosed with Burkett Lymphoma non-Hodgkin in September, he started to complain of extreme pain when urinating.  On September 19, I took him to St. Clare's in Denville, NJ. They examined him and said he was fine and sent us home.  About one week later he started to complain that his belly was hurting. On September 26, I took him to Chilton Hospital. At that point, an x-ray was done and he was misdiagnosed with constipation.  I was very concerned because he was vomiting and not eating right. I was told that it was most likely a stomach virus that was going around and they prescribed medication (that did November 2013 at the age of five years old. He had just started his first year of kindergarten at Hardyston Elementary School.  In mid-t work) to help with the vomiting. He suffered from stomach pain for several more weeks and we were concerned that this supposed virus was holding on for so long. On November 12, a day forever etched in our family's memory, my husband and I noticed a bump on his stomach. We thought it was a strained muscle. The next day, his belly was more extended and we took him back to Chilton Hospital. Within minutes after a CT scan, the emergency room doctor told us that they had found a mass in our child's abdomen.
It is hard to imagine what I felt. It was as if someone took my breath away and I found myself struggling just to breathe. As parents, we don't have the luxury of falling apart, and I quickly rallied to ask about the x-ray done on September 26 when I was told my son was constipated. They pulled the x-ray and the mass was in the same place that they misdiagnosed as constipation.
We were transported to Goryeb Children's Hospital in Morristown and were met by our pediatric oncology doctor and Nicholas began treatment with surgery and chemotherapy. We had finally found, after 3 months, the source of our son's pain. His first seven rounds of chemotherapy failed to completely eradicate his tumor and he had an additional four courses of high dose chemotherapy. It was very hard on Nicholas and our entire family. I am happy to report that my son is one year in remission and we pray that he remains cancer-free.
Unfortunately, that is not the end of the story. Our lives will never be the same. Our son and the estimated 16,000 thousand children diagnosed last year across the country are treated with very toxic high-dose chemotherapy at a time in life when young bodies are growing. Long-term late-effects from treatment (heart problems, growth problems, endocrine problems, etc.) affect 2/3 of children diagnosed with cancer.
I tell you our story so that you can see that we need to raise awareness about childhood cancer. We also need to support families along the way. We could not have done this alone. Our son suffered for three months before getting relief because childhood cancer can sometimes mimic other diseases and often goes undiagnosed until it has progressed.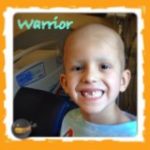 We are forever grateful to everyone who helped us along the way and are committed to giving back. Through our Founding Hope Program, Kid Nicholas Going Gold 4 Kids, with the American Childhood Cancer Organization, we are here to help because kids can't fight cancer alone. Our mission is to help families, who have a child battling cancer, with bills, food and raising more awareness for childhood cancer
Our kids need to be heard and as parents, we need to be those voices for our children. I would like to hold some different type of fundraising events to our community and the surrounding area. But we can't do it alone. All funds that are raised will go to helping families in our area.
The "Kid Nicholas Going Gold 4 Kids" Founding Hope Program recently inspired a  bipartisan resolution sponsored by Senator Steve Oroho (R-Sussex, Warren, Morris) to promote education and awareness about childhood cancer was passed by the New Jersey Senate. Senator Oroho's SJR-49 designates the third week in September as "Go Gold for Kids with Cancer Awareness Week." You can read the full article here.
We are the voices for our children. Please join us in raising awareness and funds to help support families like ours. We ask you to Go Gold®!
Thank You,
Nicholas DaSilva (survivor) and the DaSilva Family
Donate online or visit our Facebook page to participate in upcoming events. If you know of a child with cancer that needs assistance please contact 

Patricia DaSilva 

at

 myfamily4ever72@gmail.com.