All month long we are sharing information, statistics and promotions to help raise awareness for childhood cancer and this page will serve as the hub for September 2020 Childhood Cancer Awareness Month.
---
Sharable Content and Statistics 
ACCO provides content that you can share during childhood cancer awareness month! Be sure to tag ACCO on Facebook @americanchildhoodcancer, Instagram and Twitter @accorg.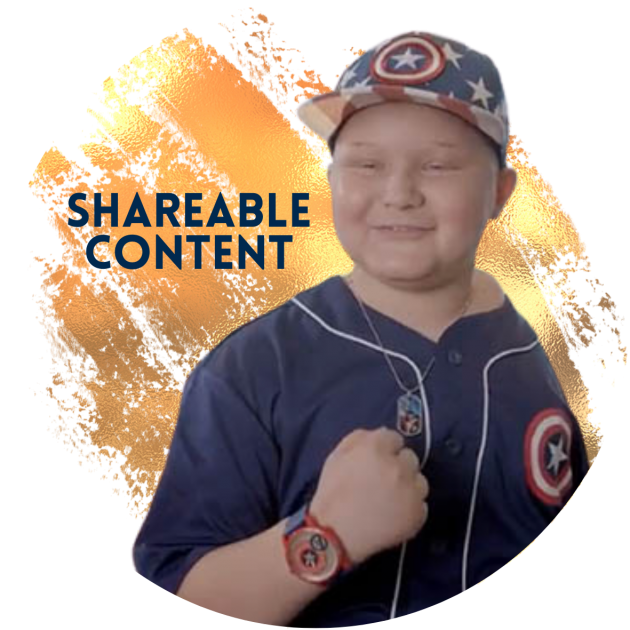 ---
Ways YOU Can Help
---
Take Action
Childhood cancer remains the number one cause of death by disease in the U.S. and around the world. ACCO helps raise awareness and change policy in many different ways. You can help by taking action at the state and federal level. 29 state plans currently do not have any mention of childhood cancer. Take action today.
---
September Promotions 
During the month of September, ACCO features promotions which help in the fight against childhood cancer!

Make it Minnie – In honor of Childhood Cancer Awareness Month, our friends at

Make

It

Minnie

are joining the fight to raise funds and awareness for childhood cancer in support of ACCO!Starting September 1st, you can purchase the Strength or Courage necklaces inspired by your favorite superheroes and

Make

It

Minnie

will donate a portion of the proceeds to ACCO! Honor the strength and courage the littlest cancer warriors display every day and help support ACCO – because kids can't fight cancer alone!Purchase your necklace here.

Matilda Jane – coming soon – In a "pretty powerful" partnership, ACCO has joined forces with Matilda Jane to raise awareness for childhood cancer. For the third year in a row, Matilda Jane's Platinum line is helping by donating a portion of the proceeds to ACCO. Read more about the partnership here. Check back for the official dress launch! 

Treat Me Right – ACCO has partnered with @treatmerightorg to spoil the pup in your life and support our littlest cancer warriors! Beginning September 11th through 22nd, a portion of every treat purchased for your dog at Treat Me Right will be donated back to ACCO. They even designed a special edition gold ribbon treat to represent our cancer warriors! To make your purchase and support this small business and kids with cancer, click here.

Cook for Childhood Cancer with Pampered Chef – Starting September 11, 2020 through September 30, 2020 shop with our friend Terry Degraw, Advanced Director at Pampered Chef. She is donating her commissions to ACCO and as a special bonus, if anyone books a party, she will donate an additional $9 per person.

Shop with Giant Food and give back! – select Maryland stores – Support ACCO this month! Visit the Burtonsville and Greenbelt locations and purchase a $2.50 reusable Community Bag. For every bag sold we will receive a $1 donation.
Smash Cancer with NIPYATA! – NIPYATA! has created a special gold ribbon pinata, available with either candy or candy AND spirits for the over 21 crowd, that is perfect for your Go Gold event or End of Chemo party! Be sure to use promo code "ACCO" and score 15% off!
GO GOLD® with the Alexander Scott Collection! – All September long, Alexander Scott will be donating 20% of his proceeds to ACCO to help raise awareness for childhood cancer! Be sure to look for the Gold Crystal, Gold Rondelle and Swarovski Gold bracelets!
Stack Your Style with Erimish! – Starting in September, Erimish has officially partnered with ACCO! Custom stacks and singles are both available that feature "warrior" on gold bracelets. To show their support, Erimish will be generously donating 50% of every Warrior bracelet or stack back to ACCO!
Raise a glass to raise awareness for childhood cancer! Join us today through the end of September for an event with ONEHOPE Wine to support the American Childhood Cancer Organization and our childhood cancer warriors! ONEHOPE is just as committed to high-quality wine as they are to the causes they support and we're honored to be chosen to receive 10% of all wine purchases made during this special September event.
---
Awareness and Hope
By sharing stories about Gold Ribbon Heroes and Survivor stories, we hope to raise awareness and spread hope for fighting cancer.
---
GO GOLD® – All Month Long!
Help ACCO raise awareness by checking out these fun items in our ACCO Store!
GO GOLD® on Your Social Media – download these stories, posts and profile pictures to use on your social media to raise awareness. Make sure to scroll down and see the other offerings we have for content you can share!
Host a GO GOLD® Event Virtually! – Organizing an event is fun and easy and the best part is, you can GO GOLD® however you want! Here are some virtual suggestions to get you thinking!

Virtual walk, run, bike ride or relay
Virtual learning? Have your class wear their best gold attire on that week's Zoom call!
Ask your local restaurant to turn their social media or online ordering "gold" during September!
Working from home? Gold out your email signature! Be sure to tell your colleagues why you're rocking the gold signature this month!
Start a challenge – Challenge your loved ones to a friendly competition with our virtual leaderboard and see who can raise the most money!
Make a "Gold" playlist featuring songs with gold in the name or lyrics – ask your friends and family to donate and you'll share these hit songs with them!