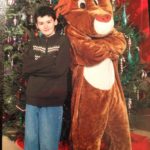 The week before Christmas 2009, I celebrated my 9th birthday, but was noticeably tired. I continued to be tired during Christmas vacation, and finally on December 30 my mom took me to the pediatrician for a simple blood test. After a quick finger-prick blood test, the nurse returned less than five minutes later and told us there were some troubling test results and I had to go to Children's Hospital in Boston where a team was waiting for us in the emergency room. My mom followed her out of the room and asked her if she thought I had cancer, and the nurse said it was a very strong possibility and that we would go by ambulance to the hospital.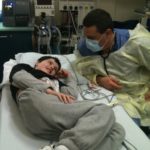 Then my mom asked if she could stop off to pick up my dad and was told to be as quick as possible. As soon as my parents and I arrived in the busy hospital waiting room, we were instantly taken back into a room with doctors, nurses and Child Life specialists waiting. I had blood drawn, and after a two-hour wait, we received the life-changing news that I had cancer.
I underwent 25 months of chemotherapy – 680 doses, 23 lumber punctures and bone marrow biopsies, 296 doses of steroids, and a g-tube. No matter how awful things got (and they did get awful), I did what I needed to do and did it without (much) complaint.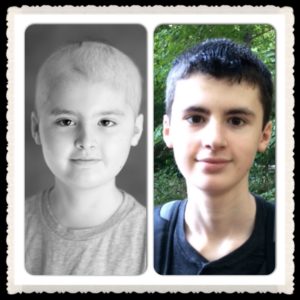 This year I'm going to be 18 and have celebrated 8 years in remission. I am busy applying to colleges and want to study to either be a Nurse Practitioner or a Physicians Assistant and someday be able to work with Pediatric cancer patients. I enjoy school, playing video games, going to Red Sox games and helping other kids who have been diagnosed with cancer.
For my CANCERVERSARY a few years ago, I started collecting donations of iTunes gift cards and Pillow Pets to give to patients in the oncology unit where I was first treated. I am now excited to have my own fund to continue this tradition and help even more children.
Brendan's Fund for a Better Tomorrow is a local program of ACCO and 90% of what is raised by this fund will be benefiting families in the Boston area.
Each year now to celebrate my cancerversary my family and I go with some of the guys from Babson College Baseball team and deliver gift bags to all the kids on the Oncology Unit. The little kids get gift cards and pillow pets while the older kids get gift cards. We also host ice cream parties periodically throughout the year for all the kids and nurses. There are photos from the event in the gallery.
Brendan's Photo Gallery
[mpa:id=7,header=false,desc=false]