Matilda Jane, a clothing company focused on keeping little girls little, has partnered up with ACCO during the month of September to create a sweet little Go Gold dress in memory of a strong little girl, Bennett Lester. This "pretty powerful" partnership aims to benefit ACCO while spreading awareness and most of all love and care. The Platinum team, Julie DeGraff, (one of the Trunk Keepers) and Jamie Ennis Bloyd of ACCO worked together to showcase the Bennett dress by hosting a photo shoot including three warriors currently in treatment. In addition to the warriors, siblings of children impacted or lost due to pediatric cancer were also asked to appear in the photoshoot.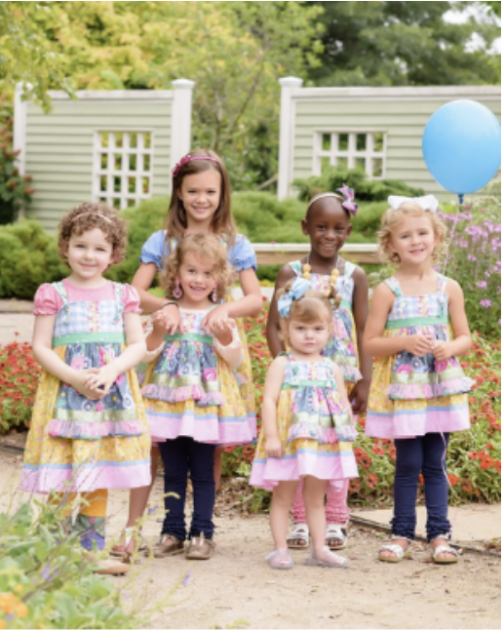 In October 2015, Bennett passed away after bravely battling a rare pediatric brain tumor diagnosis but her personality still shines through and continues to make a lasting impression on ACCO. "I was honored to call Katie Anne, Bennett's mom and get to work with her on creating this dress," Jamie Ennis Bloyd of ACCO explained. "When we were designing the dress, we both thought it was so important to go over the top in all things super girly. Chemotherapy causes children to lose their hair and even their beautiful eyelashes – everything that makes a little girl feel like a little girl – so we wanted it to be pink and have ruffles and showcase the color gold, because that's the color identified with childhood cancer."
Julie DeGraff notes that this is something that their founder would have loved and what drew her into working with Matilda Jane. "It's truly not about clothing – it's  about the little girl wearing it. I hope all the little girls who wear this dress want to twirl when they put it on. I hope it makes them feel happy, and strong, and special!"
The "Brave & Beautiful Bennett Knot Dress" features a super girly silhouette with a knot detail and gold accents. This sweet dress is a perfect edition to your closet, even more perfect to twirl in!  
To purchase the "Brave & Beautiful Bennett Knot Dress" please visit: MatildaJanePlatinum.com

Make sure to check out the "Marvelous Molly Ellie Dress," which is named after another special little girl who showed spirit and courage in her fight against childhood cancer.