Amazon + ACCO 2018
American Childhood Cancer Organization and Amazon Unveil Largest Childhood Cancer Icon Ever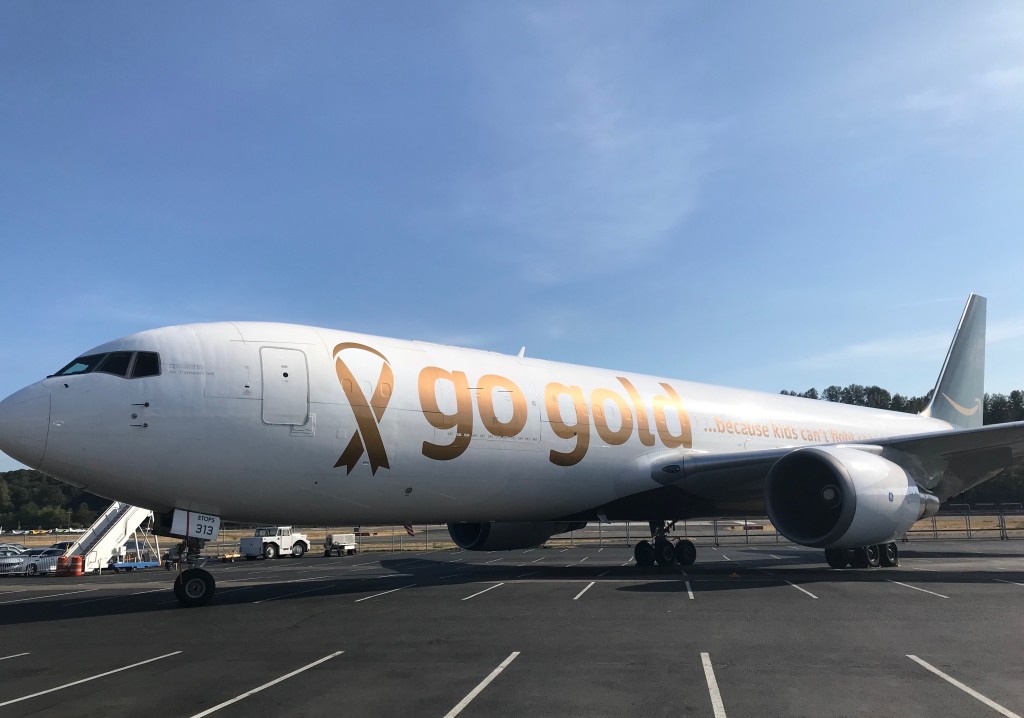 Amazon provides funding for policy initiative to overcome the disparity between adult and childhood cancer research
Dear ACCO supporters –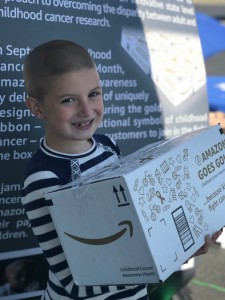 As you know, September is Childhood Cancer Awareness Month (CCAM). Our team has been hard at work the past year preparing for this important month. Today we are reaching out to our supporters so that you are the first to hear some very exciting 2018 CCAM updates. We hope you followed along last year during Childhood Cancer Awareness Month as Amazon + ACCO joined together in a revolutionary awareness campaign to transform the future of how corporate American recognizes childhood cancer as a national child health priority. This year is even bigger and better, literally! Today we are thrilled to announce Amazon + ACCO 2018 as we unveil our biggest awareness icon yet – a massive Amazon Prime airplane emblazoned with a old ribbon and featuring the American Childhood Cancer Organization's registered taglines "GO GOLD®" and "because kids can't fight cancer alone".The plane will take to the skies and deliver packages to customers across the nation, bringing a little bit of gold (and hope) everywhere it goes (www.acco.org/amazongoesgold)!
We are also excited to announce that throughout the month Amazon will also host "Camp Amazon" Gold Edition activities in Amazon robotics fulfillment centers across the United States to engage children diagnosed with cancer who demonstrate an interest in Science, Technology, Engineering, and Math (STEM). The fulfillment center will turn "gold" for the occasion and invite cancer children from local hospitals to see how Amazon robots help deliver smiles to customers around the world.  On behalf of the children participating in Camp Amazon Gold Edition, Amazon will also make donations to the pediatric oncology programs committed to saving their lives.
Until September 2017, no one knew hope could be found in a box. In the weeks and months to follow, we heard from thousands of you impacted by childhood cancer and who were so deeply moved that the world's largest online retailer would join in the fight against the disease. In September 2018, we are excited to share that millions of Amazon customers will once again receive the special edition box featuring the gold ribbon, the international symbol of childhood cancer. We can't wait to see your photos after you receive a box, please be sure to share with us on social media!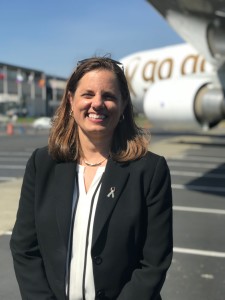 Additionally, like last year, in September thousands of Amazon fulfillment center employees will dress in their pajamas at work as a part of ACCO signature program PJammin®, recognizing pajamas are the battle uniform for children with cancer who often are forced to spend months and even years at a time fighting for their lives in their PJ's. Soon we will be reaching back out to you to join our ACCO team and Amazonians as we go PJammin in hopes that the movement will go viral so that children fighting for their lives in their pajamas all across the country – many times isolated by hospital walls and connected only to the outside world by social media – will not feel alone.
Last but not least – ACCO is so proud to share with you first that in 2018 Amazon has chosen to take the next key step towards improved outcomes for children battling cancer by providing financial support of a new policy initiative, Why Not Kids. Using Kentucky as a successful model, Amazon + ACCO will strategically implement Why Not Kids in pilot states across the country to advocate for policies and state-level funding in recognition that children are not simply small adults.
Although it is important to acknowledge significant recent accomplishments including the 21stCentury Cures Act, RACE (Research to Accelerate Cures and Equity) for Children Act, and Childhood Cancer STAR (Survivorship, Treatment, Access, and Research) Act, we know a large disparity still exists between the amount of funding the federal government allocates for adult and childhood cancer research. The reality remains that in the past two decades only 3 new drugs have been approved by the FDA specifically to treat childhood cancer. This compares to more than 185 new drugs approved to treat adult cancers. We think kids deserve more. Involvement of corporate partners is more important than ever to give all children access to more effective treatments with less toxicity.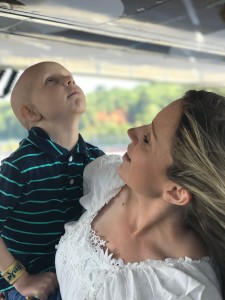 This disparity became very personal to ACCO Director of Government Relations and External Affairs, Jamie Ennis Bloyd, when her five-year-old son was diagnosed with aggressive stage 4 lymphoma and leukemia during the legislative session in March of 2014.  A state public health lobbyist at the time, Jamie quickly recognized the gap in state-level engagement and funding for childhood cancer. Working with state legislative commission staff, she discovered in the last 3 biennial state budgets over $15 million dollars [1] had been allocated to adult cancer research. Never in the history of the Commonwealth of Kentucky had the legislature invested in broad-based support of pediatric cancer – causing her to wonder aloud, "If state funds have been allocated to adult cancer research – why not kids"? She soon learned that very few, if any, states in the country had specifically invested in childhood cancer research either.
In the 2018 Kentucky legislative session Governor Matt Bevin and the Kentucky General Assembly recognized this urgent need and set a national precedent for state engagement in the fight against childhood cancer by appropriating first time funding of $5 million dollars for collaborative childhood cancer research efforts at the state's two children's oncology group hospitals. Already this new funding has resulted in the revelation of a cluster of a 40-county area in Kentucky in which children have an 87% higher incidence of pediatric brain tumors than what would be expected. Pediatric brain tumors are now the leading cause of death for children diagnosed with cancer in America. We want to bring this type of awareness and state level funding for childhood cancer research to all fifty states and we are so thankful for Amazon's financial support to ACCO to make this happen.
We hope you join with us in sharing a sense of excitement and pride for being a part of our organization and a community of supporters who make this work possible. We couldn't do it without you. Please stay tuned throughout the month as we post daily about other corporate partnerships, the amazing work of our 33 Founding Hope chapters, our Gold Ribbon Heroes, Go Gold events, Light Up Gold, PJammin® in schools, updates on the state proclamation initiative, and so much more.
Please consider asking friends and family to join follow us on social media and sign up for our mailing list (hyperlink here to webpage to join mailing list) to join us on our quest….because kids can't fight cancer alone!®

Ruth Hoffman,
Chief Executive Officer
American Childhood Cancer Organization
The American Childhood Cancer Organization was founded in Washington, D.C. in 1970 by parents of children and adolescents diagnosed with cancer to advocate for their needs and support research so every child survives and leads a long and healthy life. Since its inception, the ACCO has helped support more than half a million families affected by childhood cancer. ACCO now has more than 33 local ACCO Founding Hope affiliates throughout the United States. For more information on the partnership with Amazon visit www.acco.org/amazon.To make a donation, please visit www.acco.org/donate.
[1]Information based on 2016 RS HB 303, 2014 RS HB 235, 2012 RS HB 265 and provided by LRC Appropriations and Revenue staff on 7/19/2017