We'd like to share the results of our 2016 ICCD Awareness Shirts Campaign. This year approximately 4,000 names of children and teens who have fought cancer or are still fighting cancer were submitted. The names we collected for these very special shirts represent so much more, they represent someone's child, brother, sister, cousin or friend. They represent too many children, teens and families who have fought this disease with fierce strength and determination. The American Childhood Cancer Organization vows to stand with our children, teens and families until there is a change, until there are better treatments and one day a cure!
The second campaign ends February 20th so Please Purchase Your Shirt Today. Also, don't forget to check out our new Gray Shirt option by using the pull down menu!
Since we received approximately 4,000 names, we have to divide them onto three different shirts. When ordering the shirts please be absolutely certain you are selecting the correct shirt. Names are in alphabetical order by last name. If no last name was submitted, first names are in alphabetical order on the end of the list or last shirt (SHIRT 3). For siblings, cousins or friends, the names have been placed together in order to print on one shirt upon special request, however a duplicate of that name will also be in alphabetical order for those who submitted the name separately. If you have sent a special request for this, please check the list to see if the names are together. Please email 
cperry@acco.org
 with any questions.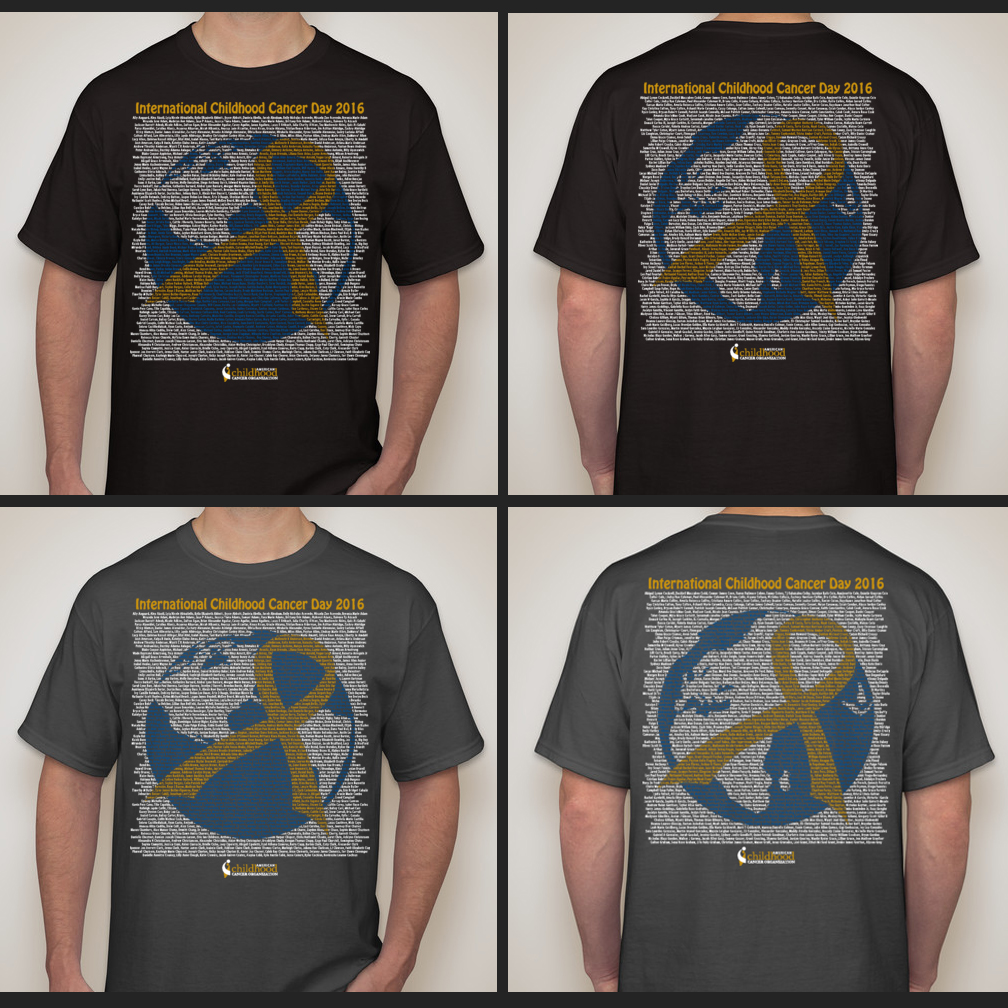 Go directly to the shirt you would like to order:
To review the list of names click the links below: 
Be sure to view what shirt the name you are looking for is on before submitting your purchase. Please note that the list(s) are not complete and may not contain submitted corrections. Every effort will be made to update the list every 24-48 hours as changes are made. Names used for the design thumbnail is not the actual list. The final list will be loaded to the design by January 15th. Absolutely no further changes will be permitted after this date.
We collect names on a per project basis and 
do not carry names over from project to project
. If your child's name is on this shirt or previous shirts, but you would like their name to be on the 2016 Go Gold® Shirt that will go on sale in August 2016 for Childhood Cancer Awareness Month (Sept 2016), please submit their name again using 
this link
 or the button below. We will only be collecting names using 
this link
 to help streamline the process.
REGISTER YOUR CHILD'S NAME FOR OUR 2016 ICCD SHIRT
Shirts ship only after the campaign ends (January 22nd, 2016), and usually require approximately two weeks for delivery. For the first campaign, shirts are expected to be delivered to everyone by February 15th – International Childhood Cancer Day, for you to wear to help raise awareness. We ask that you please try to wear your shirt on this day, take a photo and email it to cperry@acco.org or share on our Facebook Page so that we may share the photo in our 2016 ICCD Awareness Shirt Photo Album on our social media. *For shirts ordered after January 22nd, please expect delivery towards the end of February or beginning of March.