David Jr. and his family are on a mission to help raise awareness for childhood cancer, one day at a time. When David Jr. was diagnosed with DIPG, diffuse intrinsic pontine glioma, his family was determined to make every day the best day ever. The family's focus shifted to creating memories for David Jr. while advocating for childhood cancer in their home state of Kentucky.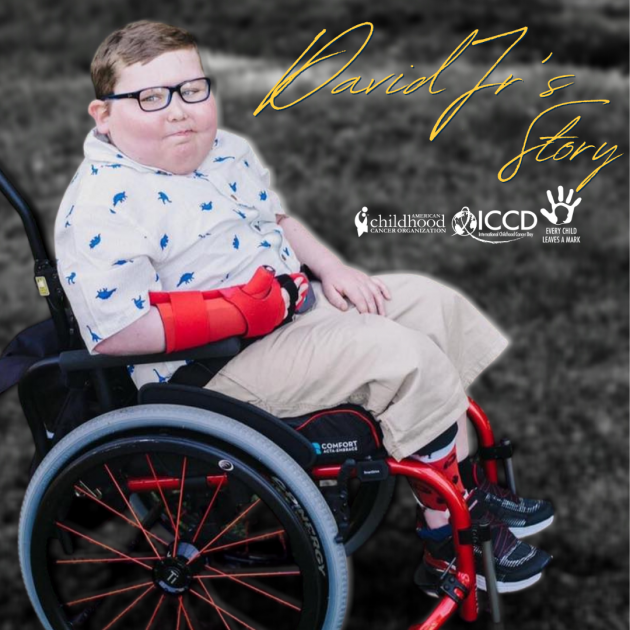 DIPG is a type of brain tumor occuring in the pons, a part of the brain that controls many basic functions like breathing, sleeping, swallowing and regulating heart rate. It remains one of the deadliest forms of childhood cancer, with a long-term survival rate of less than 1%. David has been fighting DIPG for the past 33 months, while the normal patient does not survive more than 24 months.
Symptoms started very quickly and he was unable to roll during karate class. When his head was droopy and he started to act goofy, his parents took notice. After complaining of a headache and dizziness, the pediatrician advised David Jr.'s parents to take him to the emergency room where a stat MRI was performed. He's been fighting for his life ever since. 
"Life with David is an adventure everyday. We have done as much as we can. He went to kid prom, he has been traveling and riding roller coasters. He loves to go to the beach. We have made every day the best day ever and an adventure for him. We wanted him to have as many memories as possible" said Elizabeth, David Jr.'s mother.
Alongside his mother, Elizabeth and father, David, David Jr. helps to advocate for childhood cancer. He was able to meet the Governor and Senator of Kentucky where he helped declare May 17 as DIPG Awareness Day. 
"I've had the great privilege of meeting David Turner on multiple occasions now, and even had the opportunity to introduce him on the Senate floor," said Sen. Morgan McGarvey, D-Louisville. "David is a fighter and has been instrumental in helping raise childhood cancer awareness in the Commonwealth. He is a courageous fighter and an exceptional advocate."
You can read more about David Jr. by clicking here.
Their data matters. Their life matters. Every child leaves a mark. Learn more about the Childhood Cancer Data Initiative this International Childhood Cancer Day, February 15, 2021, by clicking here.