"As parents, you want your child's life to matter and their legacy to live on forever."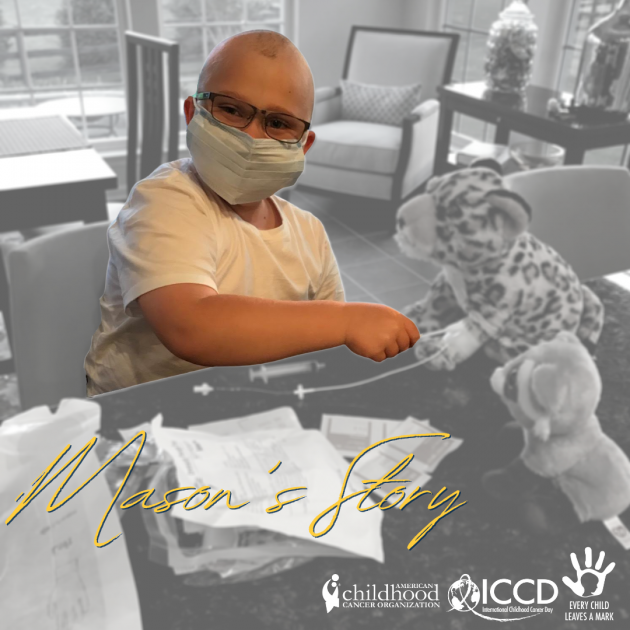 In February, 2016, Mason was diagnosed with T cell acute lymphoblastic leukemia. Survival rates for childhood ALL in first remission are now approaching 90% while ALL accounts for about 75% of leukemia patients. When Mason was originally diagnosed, he followed the intermediate protocol by Children's Oncology Group (COG), until relapsing in July of 2017. His initial relapse occurred in his spinal fluid and after much discussion, his doctors advised that the best path to take was to receive a bone marrow transplant. After completing his first month of 1st Grade, In October 2017, Mason had his bone marrow transplant.  Unfortunately, Mason relapsed again in December. After fighting like the true warrior he was, in March 2018, Mason passed away from respiratory distress among other complications of his cancer. 
Being treated at Children's National in DC, during the course of Mason's treatment, Keli remembers that the doctors would come in from time to time asking if they would like to participate in a research study. Keli recalls spending time understanding the specific studies and always being willing to have Mason participate.. "We were willing to do anything that might help the team help other warriors like Mason and learn from his treatment." 
Data became incredibly important to warriors like Mason because without it, some treatments would not have improved and changed. Childhood cancer researchers benefit from the donation of blood, urine, tissue and other samples as that data can potentially help in life saving treatments. 
When Mason's battle with cancer ended, Keli, Mason's mother, shared that "when he passed away, we had a choice to grieve privately to deal with the emotions we were facing or to be out there with the community supporting us. Giving back is my therapy. Carrying Mason in my heart he keeps me moving forward spreading joy in his memory." Part of "giving back" to the childhood cancer community was started while Mason was in treatment, participating in research studies and what we carry forward is his hope and joy to other warriors and families..  
Their data matters. Their life matters. Every child leaves a mark. Learn more about the Childhood Cancer Data Initiative this International Childhood Cancer Day, February 15, 2021, by clicking here.