"Everything happens for a reason. My tumor was found for a reason. I can walk, talk and not have any side effects that prevent me from day to day life for a reason. I speak out about my experience because I was fortunate enough to recover in just a few months. Now that I am fully able to do stuff, I am meant to speak out,  especially for those who are in treatment and those who have passed away. I'd like to represent them and speak out on their behalf."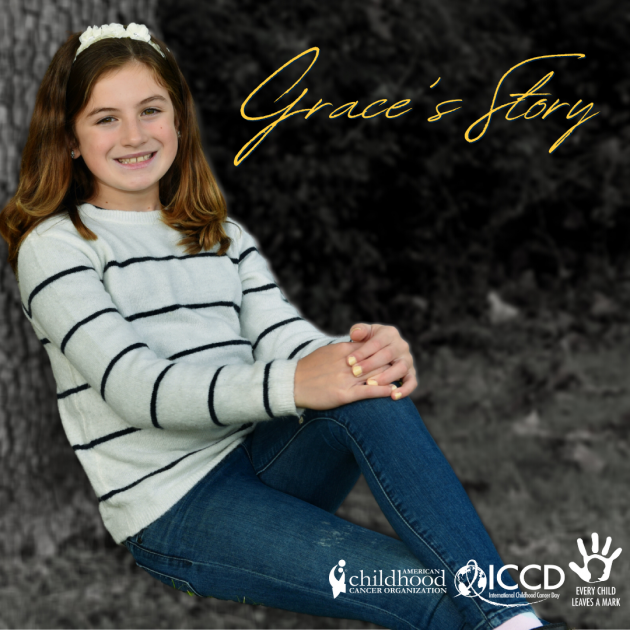 Grace is a 12 year old survivor of germinoma, a germ cell tumor that pressed on her pituitary gland. She was diagnosed at the age of 9 years old and was put on treatment immediately to eradicate her tumor. Treatment consisted of chemotherapy and proton radiation. When chemotherapy ended, Grace made a sign and proudly now it still hangs in the hospital for others to sign when they finish chemo. 
When ACCO talked to Grace about her data, she exuded confidence as she talked about her diagnosis and what data meant to her. Although no tissues were collected from Grace specifically, she would have donated if she could have. "When I am older, I plan on donating. I want to help people, the more the better." Her data was collected by her doctor who works with the COG. 
Because Grace's tumor was pressing on the pituitary gland, her side effects were typical for this type of tumor location. She experiences excessive thirst, a thyroid deficiency and nose bleeds. Other than that, Grace is healthy and progressing well. She takes a shot nightly to help with growth and is very proud to report she's grown four inches this year! 
Data influenced the diagnosis and treatment of Grace's tumor. First with the median range data that came out of the diagnostic lumbar puncture tumor markers and then specifically when it came to surgery or not. Based on the statistics of outcome globally of treating this type of tumor with and without surgery the decision was made to not perform surgery right from the start. Data also informed the navigation of the proton therapy. Grace explained that she was given a special mask when she had proton therapy, which she proudly showed off during our interview. Her 'Wonder Woman' mask helped keep her head in place while she was undergoing therapy. Imagine being surrounded in a room with several doctors all making sure that your head is in just the perfect position – if not, they could hit a nerve and render you blind. Talk about nerve wracking. But, of course, Grace is a trooper and didn't even need sedation to undergo this 45 minute procedure. 
Grace has since gone on to advocate for childhood cancer at several speaking events including the State of the Union. She was invited to visit the headquarters of Mevion in Boston, Massachusetts to speak at their annual meeting as well as see how they make the proton therapy tools. In 2020, Grace was to appear at the Proton Radiation Conference, however due to COVID-19, she was unable to speak at the engagement. Her case is used in various conferences to talk about how proton radiation works to help pinpoint the tumors with minimal issues. 
Their data matters. Their life matters. Every child leaves a mark. Learn more about the Childhood Cancer Data Initiative this International Childhood Cancer Day, February 15, 2021, by clicking here.