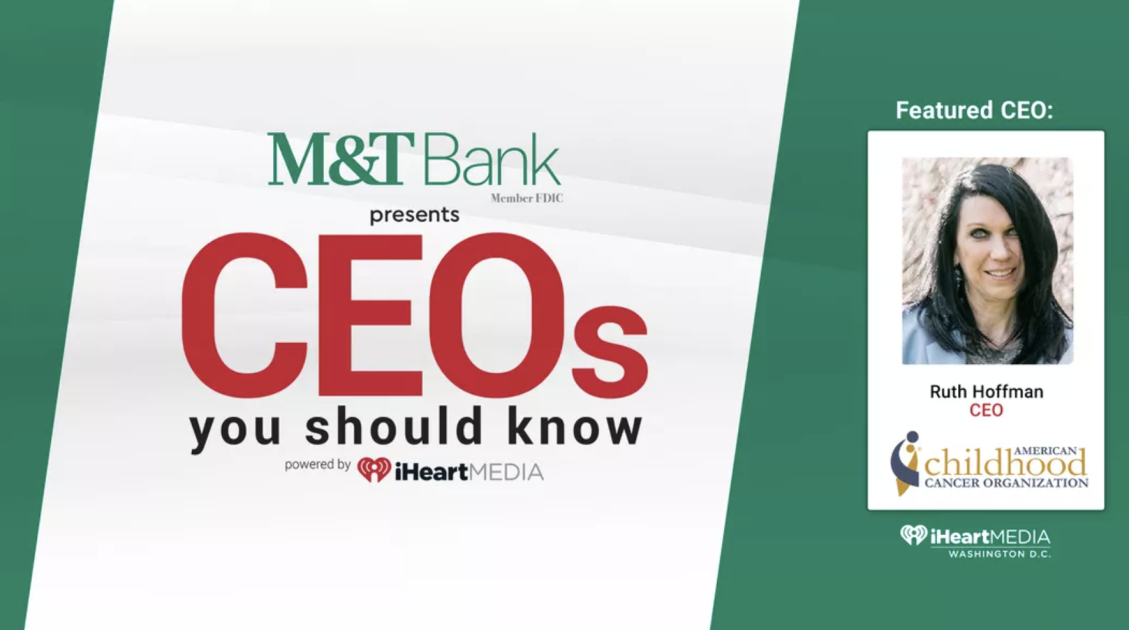 In January, ACCO's CEO, Ruth Hoffman, was nominated for M & T Bank's "CEO You Should Know" Award and was selected in March! We are absolutely thrilled to share this with our community. Be sure to listen to any iHeart Radio station in the greater Washington D.C. area to hear the commercial and you can read more about her here.
What makes a good CEO? Is it dedication to the organization's mission or the ability to inspire all who she employs? With that said, I humbly nominate Ruth I. Hoffman as the next CEO You should know. 
Ruth was thrust into the childhood cancer world when her 7-year-old daughter was diagnosed with acute myelogenous leukemia (AML). Since 1999, Ruth has been CEO of the American Childhood Cancer Organization (ACCO) and is the immediate Past-President of Childhood Cancer International. 
To say childhood cancer advocacy is a passion for Ruth is an understatement. She has spent more than thirty years raising awareness and advocating for cancer's littlest patients.
"Ruth is focused on advancing childhood cancer initiatives around the world and leads a team of individuals dedicated to the mission so that one day there is a cure," said Elizabeth Turner, Regional Advocacy Coordinator.
Even on the darkest days, ACCO's resources help to bring smiles to the faces of cancer's littlest patients. Ruth was hands on when it came to developing resources to help kids with cancer. She said, "I am proud of all of our comprehensive childhood cancer resources, born out of parents' frustration with the lack of readily-available and easy-to-digest information. When parents write to let me know that their child related to our book "Marvelous Marleigh" or felt empowered to face cancer treatments after playing with ACCO's Medical Play Kit, there is an inner peace that I feel knowing that I played a role in making a family's journey a bit easier as a result of these important resources." 
ACCO's roots are deeply planted in the advocacy community and with the expansion of the "What About Kids?®" initiative, ACCO has proven that states play a critical role in overcoming the national disparity between adult and childhood cancer research, treatment and support. As of 2023, the "What About Kids?®" research Initiative has raised more than $72.4 million for childhood cancer research under Ruth's leadership. 
"In order for someone to work as hard as Ruth does, while simultaneously and consistently radiating such warmth, that person needs to truly and wholly love what she does, who she does it with and what she does it for. She makes it look easy and when it all comes together, it's downright inspiring," said Samantha Clary, ACCO's Resources Coordinator. 
Ruth's dedication to childhood cancer doesn't just include the United States. She has helped ACCO cross borders and address the needs of kids with cancer and their families worldwide. 
In the past six years, Ruth has helped develop a nutritional program in Addis Ababa, fund a nutrition program in Ethiopia, aid in getting supplies for Beirut children following the explosion and navigated support for kids with cancer and their families during the Ukrainian crisis. 
Most recently, Ruth worked with the World Health Organization (WHO) to develop a survey to amplify the voices of pediatric and adult cancer survivors, caregivers and bereaved families. This survey aims to reach more than 100,000 responders who have been affected by cancer in some way.  
Ruth's unfailing love of what she does radiates throughout the organization and her dedication to the cause is awe inspiring.