Congratulations to Lance on his Graduation from High School
We would like to extend our heartfelt congratulations to Lance R. on his graduation from high school this month! A major accomplish in the life of many teens, for Lance, this month's graduation ceremony was especially meaningful. Lance spent a year and a half battling osteosarcoma, a form of bone cancer. Now, after months of difficult chemotherapy and two major surgeries, Lance has achieved his goals of beating cancer AND graduating with honors! He is looking forward to heading off to college, choosing a major, and continuing to pursue his love of music on the guitar and drums.
Congratulations, Lance! We wish you the very best as you face the next phase of your life with confidence!
Lance's Story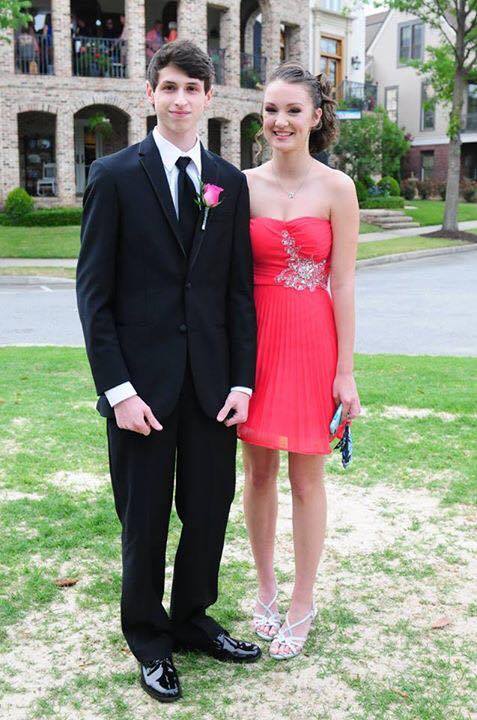 Lance's cancer journey began when he was 16. What started as minor leg pain continued to grow stronger and more focused in the left knee until, after an unexpected fall, he was no longer able to move or bend the left knee without pain. After an x-ray and MRI, he received the dreadful news in October 2014: the tests showed a tumor on the left distal femur, the bottom end of the thigh bone, just above where it meets the knee joint.
Lance began chemotherapy with a fairly standard "MAP" treatment, a powerful drug cocktail of high-dose methotrexate, doxorubicin, and cisplatin, tailored to slow the tumor's growth and prevent it from spreading. By January 2015, Lance's doctors were encouraged—the tumor in his left leg had shrunk, and four small lesions in his lungs had disappeared—yet Lance's treatment was by no means finished. The second phase of his treatment required surgical removal of the tumor, the affected bone and knee joint, and replacement of the bone and joint with an internal prosthetic knee (limb-saving surgery—LSS).
Unfortunately, no cancer journey is ever straight-forward and Lance's journey was no exception. The high dosages of toxic chemotherapy drugs required to fight the cancer led to serious heart problems and an alternative drug combination had to be found for the final two rounds of chemotherapy in July 2015. In February 2016, he underwent revision surgery to correct his prosthetic knee to ensure that it kept up with his rapid growth. He faced months of difficult rehabilitation therapy to, literally, learn how to walk again on the new leg bone and knee joint. Yet throughout it all, Lance's mother Sharon proudly notes that he never gave up!
Cancer in Teens and Young Adults
Lance's story is important because it shows us a different face of childhood cancer: the face of adolescence. The face chosen to represent childhood cancer is often that of a young child. Yet so-called "childhood cancer" also affects teens and young adults; osteosarcoma, for instance, makes up about 2% of all childhood cancers and usually (although not always) develops between the ages of 10 and 30. And treating cancer in teens and young adults presents different physical and emotional challenges than younger children. For instance, teenagers often want to be treated as adults and resent and potentially even resist treatment in pediatric-focused oncology centers. Yet because the cancers they face are very different than adult cancers, effective treatment requires expertise in pediatric oncology. Some hospitals have responded to this challenge by creating separate wings within the pediatric department geared specifically for adolescents and young adults.
Cancer diagnosis and required treatment also makes coping with the physical and emotional difficulties of adolescence even more difficult. After all, the hormonal, physical, and emotional changes associated with puberty can be traumatic enough without the additional feeling that your body has "turned against you" or "betrayed you" from the inside. Common side effects of chemotherapy, such as hair loss and weight gain, can make it especially difficult for adolescents to take pride in their appearance, while long hospital stays and enforced absence from school and social activities can make it nearly impossible for a teen battling cancer to feel connected to their friends and peers. Even things that may seem minor to an adult—like not being able to practice driving, as noted by Lance in a January 2015 YouTube video—can exacerbate the feeling of isolation that can be so problematic for many teens.
Yet Lance's story also shows us that even with all the emotional turmoil and physical hardship that childhood cancer can have for a teenager, courage, determination, and a fighting spirit can overcome so many obstacles. As Lance graduates this month and looks forward to life in college and beyond, he and his mother hope that Lance's story can show other families facing a similar journey the importance of staying focused and positive, and above all, never, ever giving up!
About the American Childhood Cancer Organization
The American Childhood Cancer Organization (ACCO) is a non-profit charity dedicated to helping kids with cancer and their families navigate the difficult journey from cancer diagnosis through survivorship. Internationally, the ACCO is the sole US member of Childhood Cancer International (CCI), the largest patient-support organization for childhood cancer in the world. Here in the United States, the ACCO promotes the critical importance of ensuring continued funding into new and better treatment protocols for childhood cancer.  And most importantly, the ACCO is focused on the children: developing and providing educational tools for children fighting cancer and their families, empowering them in their understanding of childhood cancer and the medical decisions they must make during this difficult journey. All of ACCO's resources are available free of charge for families coping with childhood cancer.
For additional information about childhood cancer or on the ACCO, or to order resources for you or your child, please visit our website at www.acco.org.
Want To Read American Childhood Cancer Organization On Your Phone? Click the NoteStream logo: