Meet Dana, a fearless forever stage IV ganglioglioma warrior.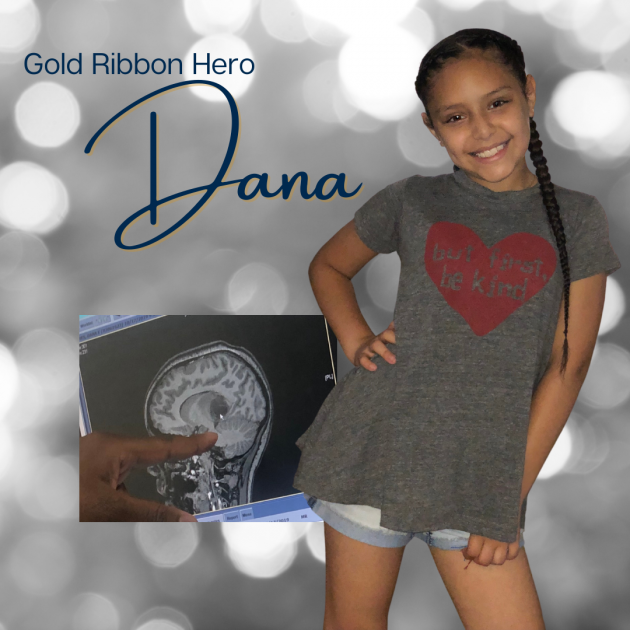 Dana was a normal 11 year old when she was diagnosed with brain cancer. After attending an appointment with her grandmother she began vomiting on the way home. The vomiting was accompanied by extreme lethargy and a headache. Dana's parents suspected she had food poisoning and took her to urgent care. When they walked into urgent care, Dana collapsed. Doctors suspected that she was dehydrated and gave her medication which did not agree with her. When the vomiting didn't stop Dana's parents took her to the emergency room where she collapsed again. Dana was rushed to the resuscitation room and blood was taken. When Dana's bloodwork came back normal, a CT was performed. The CT revealed a golf ball sized tumor on the back right side of her head. Dana was admitted to the hospital immediately and taken to the ICU where she suffered from three seizures. 
Dana had a craniotomy performed on the right side of her brain five days after the initial symptoms and the family was told the tumor was very aggressive. The doctors advised Dana's parents that she needed radiation immediately. As a side effect of the brain surgery, Dana had left side weakness and vision problems. She complained of neck and leg pains after beginning radiation but remained positive despite everything she dealt with. 
After completing radiation treatment, Dana experienced headaches and was brought into the hospital for observation. The cancer had spread down her spine which explained her pain. After suffering two seizures, she was rushed to the ICU where things got worse. On January 17, 2020, Dana was placed in hospice care and gained her angel wings just a few hours later surrounded by family and friends at her bedside. 
During the three month cancer journey, Dana's family and friends were beyond helpful. Their support system brought things to the hospital and would take turns going to show support and make sure that Dana was comfortable and in good spirits. 
Learn more about brain and spinal tumors by clicking here.
Together, we can make a difference.
Donate today… because kids can't fight cancer alone
®
.