THE WHITE HOUSE | 
Office of the Vice President
PRESS RELEASE: February 1, 2016
FACT SHEET:   Investing in the National Cancer Moonshot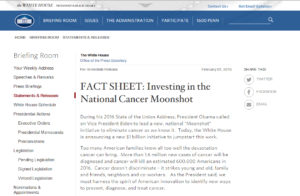 During his 2016 State of the Union Address, President Obama called on Vice President Biden to lead a new, national "Moonshot" initiative to eliminate cancer as we know it.  Today, the White House is announcing a new $1 billion initiative to jumpstart this work.
Too many American families know all too well the devastation cancer can bring.  More than 1.6 million new cases of cancer will be diagnosed and cancer will kill an estimated 600,000 Americans in 2016.  Cancer doesn't discriminate – it strikes young and old, family and friends, neighbors and co-workers.   As the President said, we must harness the spirit of American innovation to identify new ways to prevent, diagnose, and treat cancer. Read more.
Investments to Launch the Next Phase of Cancer Research
The Administration is launching the National Cancer Moonshot with a $1 billion initiative to provide the funding necessary for researchers to accelerate the development of new cancer detection and treatments, including:
The Moonshot initiative will begin immediately with $195 million in new cancer activities at the National Institutes of Health (NIH) in Fiscal Year 2016.
The Fiscal Year 2017 Budget will propose to continue this initiative with $755 million in mandatory funds for new cancer-related research activities at both NIH and the Food and Drug Administration.  Read more.
DOWNLOAD THE WHITE HOUSE MOONSHOT INVESTMENT PRESS RELEASE