Another Face of Childhood Cancer Represented at Jel Sert's Corporate PJammin'® Party!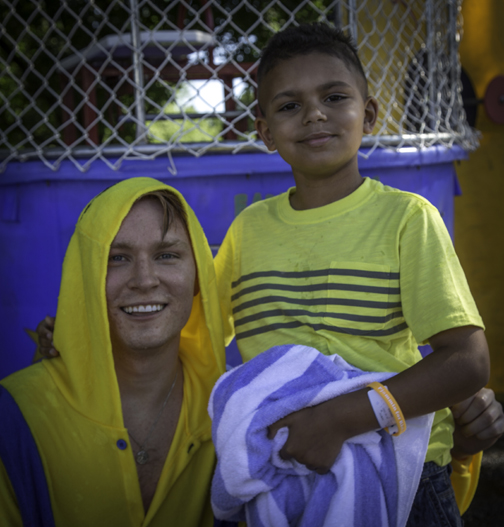 We would like to take a moment today to thank Cy and his family for their amazing participation in the June 15 corporate PJammin'® event at Jel Sert, a family-owned company that has generously supported the childhood cancer community for many years. At eight years old, Cy received his first cancer-free scans just a few months ago after a two year battle with medulloblastoma! Congratulations to Cy and his family on this incredibly good news, and thank you for helping us raise awareness about the importance of the fight against childhood cancer!
Cy's Battle: Medulloblastoma
Cy was just six and a half when he was diagnosed with medulloblastoma on May 6, 2014. Medulloblastoma is a malignant brain tumor that originates in the cerebellum, an area at the back of the brain controlling body movement, coordination, and balance. As the tumor grows, it can block the movement of crucial fluids around the brain as well, causing a build-up of fluid and pressure within the skull. Typical symptoms of medulloblastoma include headaches, sleepiness, a lack of energy, vomiting (usually in the morning), changes in vision, clumsiness, and trouble walking.
Cy exhibited none of these typical symptoms before his diagnosis, yet immediately upon receiving this dreaded diagnosis, Cy's family began to prepare for surgery. Cy's oncology team urged them to act fast: in about one-third of all medulloblastoma cases, the tumor can spread to other parts of the brain and spinal cord, complicating treatment. Cy had his first surgery to remove the tumor two days after diagnosis. Incredibly, within three weeks, the tumor had regrown more than 100% of its original size. Cy's family was devastated. Unfortunately, Cy's oncology team felt that another surgery would be too risky for Cy's young brain and began preparing for a combination of chemotherapy and proton radiation treatments. Cy was heavily medicated to control pain and discomfort in the interim.
Standard radiation treatment involves directly high levels of x-rays at the tumor. Radiation kills cells as they are in the process of dividing, part of the normal life and growth cycle of any cell. Because cancer cells grow and divide more rapidly than healthy cells, they are more susceptible to radiation than normal cells. However, healthy cells are still damaged by radiation, especially in children, whose young bodies are still growing and developing. To treat his medulloblastoma, Cy's oncology team utilized proton radiation, which utilizes protons instead of x-rays to generate the high-energy radioactivity needed to kill the cancer cells in Cy's brain. Proton radiation is believed to cause less damage to surrounding tissue than traditional x-ray radiation therapy.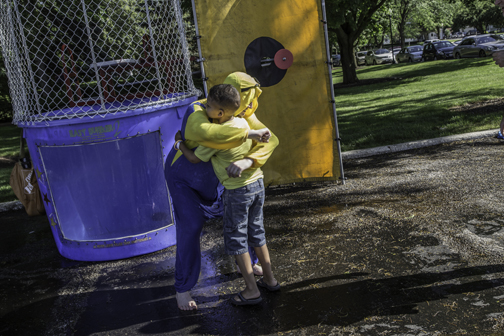 During his treatment, Cy received a total of 29 chemotherapy treatments in combination with 32 proton radiation treatments. This initial treatment was followed up with six cycles of in-patient chemotherapy, which ended in January 2015. This intensive treatment succeeded where surgery did not—by March 2016, Cy's scans finally showed "no evidence of disease". Yet the therapy was not without damaging side effects. Since receiving his last treatment, Cy has worked hard in physical therapy, speech therapy, and occupational therapy to overcome the damage to his delicate young brain caused by both the tumor and the treatment. We wish Cy and his family the best of luck as they begin this next phase of his amazing life, and we are certain that whatever life holds for Cy, he will meet it with the same courage determination that he used to battle and defeat medulloblastoma.
About the American Childhood Cancer Organization
The American Childhood Cancer Organization (ACCO) is a non-profit charity dedicated to helping kids with cancer and their families navigate the difficult journey from cancer diagnosis through survivorship. Internationally, the ACCO is the sole US member of Childhood Cancer International (CCI), the largest patient-support organization for childhood cancer in the world. Here in the United States, the ACCO promotes the critical importance of ensuring continued funding into new and better treatment protocols for childhood cancer.  And most importantly, the ACCO is focused on the children: developing and providing educational tools for children fighting cancer and their families, empowering them in their understanding of childhood cancer and the medical decisions they must make during this difficult journey. All of ACCO's resources are available free of charge for families coping with childhood cancer.
For more information about the American Childhood Cancer Organization and how we can help, call 855.858.2226 or visit:
Want To Read American Childhood Cancer Organization On Your Phone? Click the NoteStream logo: