Meet Indy, a stage 3 wilm's tumor survivor!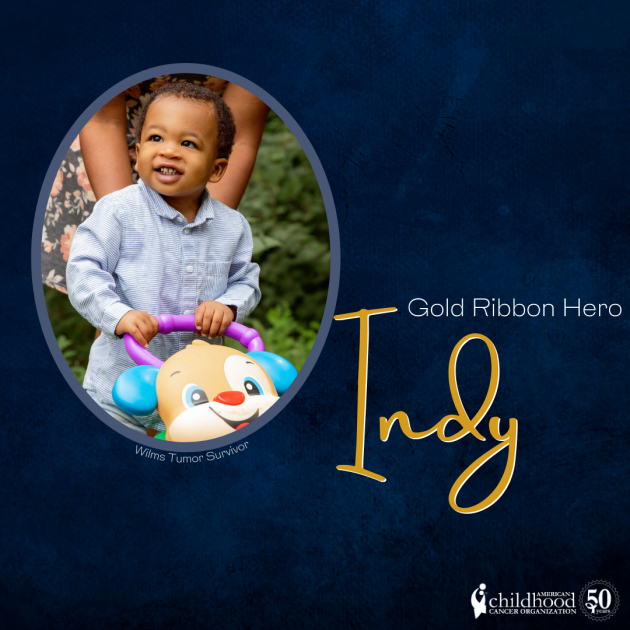 At three months old, Elliott, or "Indy" for short, was getting a bath when his parents noticed a hard lump on the left side of his abdomen.  Sterling and Myra, Indy's parents, took him to the pediatrician the next day and were quickly referred to the hospital where a bed was waiting. "We arrived at the hospital more worried than we were before and they sent in a medical team to visit with us" Sterling remembered. Several tests were performed and after three hours, the oncologist entered their room and told Indy's parents that he saw a mass on his scans but wasn't sure it was cancerous. 
The oncologist suggested that Indy needed surgery to further inspect the mass and later confirmed that it was a stage 3 Wilm's tumor. At the time of diagnosis, Indy's tumor was the size of an eggplant. The surgeons were unable to remove the full tumor so Indy had to endure daily radiation for one week and weekly chemotherapy for six months.  
"Elliot was dealt a hand no person asks for. He stayed a happy kid throughout his multiple rounds of chemo and radiation. He continued to smile through every hurdle, every sedation, and every doctor visit. His smile gave us peace when we were hurting the most" Sterling said.  
As a side effect to the treatments, Indy developed food allergies which made it hard to tolerate food. He would get sick, have diarrhea and fevers. Indy's feet started turning inward as a result of treatment which led his parents to take him to an orthopedist. The doctor put him in casts for four weeks in an effort to help straighten his feet out. Now, he's able to run and play with his big brother! On February 27, 2021, Indy celebrated two years of chemotherapy completion.
In September 2020, Sterling held a fundraiser for ACCO. He hosted a year-long virtual race and even made his own trailer! He planned to participate in the Disney marathon in Indy's honor and continued to raise money (and run, virtually) long after the race was cancelled. Sterling continues to help raise money for childhood cancer and advocate in honor of Indy "because the run for childhood cancer doesn't end in September." 
Learn more about Wilm's Tumors here: https://www.acco.org/wilms-tumor-and-other-childhood-kidney-tumors/
Together, we can make a difference.
Donate today… because kids can't fight cancer alone
®
.