Meet Damon, a childhood cancer advocate and forever 13 year old. The day that Damon was diagnosed, he heard the song, "Happy" by Pharrell while in the ER with his mother Lisa. His father Brian suggested that he make it their theme song and make every day "happy" which helped Damon be positive every day.
Brian's radio background afforded him the opportunity to reach out to Pharrell's recording company where he requested an autograph. Pharrell did something much more exciting; he recorded a video for Damon which proved to be a lasting memento in his life. Pharrell's message conveyed positivity and to treat every day as a gift. Watch Pharrell's video here:
One night while in surgery, Brian watched the video several times and allowed it to speak to him. When Damon woke up, Brian showed Damon the video and told him to watch it until he got the message. The video challenged the Billeck family to live in the moment, cherish the gift of today and Damon started having fun. He loved having fun with his family and could often be found making videos with them in WalMart.
Damon's spirit was infectious. Damon was able to meet Buddy and the staff at Carlo's Bakery to take a tour and learn more about the company. He made such an impression on Buddy and the staff that he was invited to Buddy's bakery and restaurant opening in San Antonio, Texas. He was even able to collaborate with Jumo Health to create a comic book titled Understanding Osteosarcoma. Read his comic by clicking the picture below.

During his fight, Damon was able to overcome many challenges including a limb amputation and a relapse. His strength and humor helped him to get through the tough times. Damon wanted to help other kids with cancer at University Hospital by securing a bell for them to ring when they complete chemotherapy or they were declared N.E.D. – No Evidence of Disease. Damon was able to make friends with the San Antonio Fire Department and Chief Hood who made his dream happen. The bell is aptly named "Damon's Victory Bell" which helps to celebrate an end to cancer and memorialize firefighters who passed to occupational cancer. Appropriately enough, Damon was able to ring his own bell at the age of 12! 
Texas lawmakers invited Damon to the Capitol where he became Governor for the Day. His proclamation as newly appointed Governor was to declare October 6, 2016, "Pediatric Cancer Awareness Day."  
On January 3, 2017, Damon learned that his cancer had returned. By this time, Damon had tried all procedures and protocols to kill the cancer and the only treatments left would be trial medications. A few months prior, his parents had a conversation with Damon talking about the prospect of cancer returning. "If it comes back, we will turn you into a guinea pig, get you a nametag and call you Bugsy (from Bedtime Stories)!" they said, jokingly. In the Billeck family, humor helped them cope with his prognosis. Damon looked at his parents and said, "well, I guess y'all need to get me that nametag now." Damon's perspective on his prognosis was, "I can do this all day!" Brian was so inspired that he decided to tweet Chris Evans, star of Captain America. Evans retweeted the post about Damon and his story went viral. From then on, Damon and Chris kept in touch. Despite his prognosis, Damon continued to raise awareness for childhood cancer. He was the Ambassador for ACCO in 2016 & 2017 and attended the PJammin® for Kids with Cancer event at Microsoft in San Antonio & Austin, Texas. Check out his appearance here: 
Damon fought a long and hard battle with osteosarcoma and passed away on April 3, 2018. His legacy lives on and he continues to help raise awareness for childhood cancer. When Damon was 12, he wrote a letter to cancer, illustrating what it took away and what it taught him. It's a lasting impression on how children fight and deal with cancer. Read his letter here: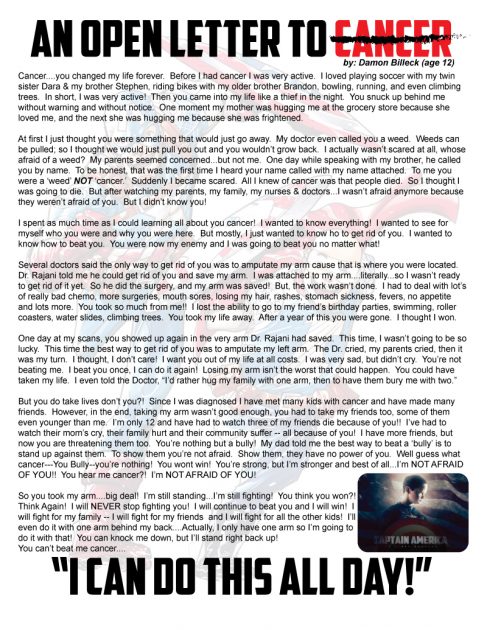 Lisa and Brian have become instrumental in the childhood cancer fight and they continue to advocate for kids with cancer. In early 2019, Brian joined hundreds of advocates at the Texas State Capitol to advocate for continued funding of $3 billion in cancer research funds as part of the Cancer Prevention Research Institute of Texas (CPRIT). Damon's parents and family continue to advocate and have big plans to help in the fight against childhood cancer. 
---
Follow Brian on Twitter or Instagram @happy2badad or on Facebook at @teamdamonbenefit/
Read Damon's original Gold Ribbon Hero story here: https://www.acco.org/blog/golden-ribbon-hero-damons-story/
You can take action in your own state by learning more here.
Learn more about the types of sarcomas and read more stories here during our Sarcoma Awareness Month feature.