Meet Lilliana, a survivor of Burkitt's lymphoma!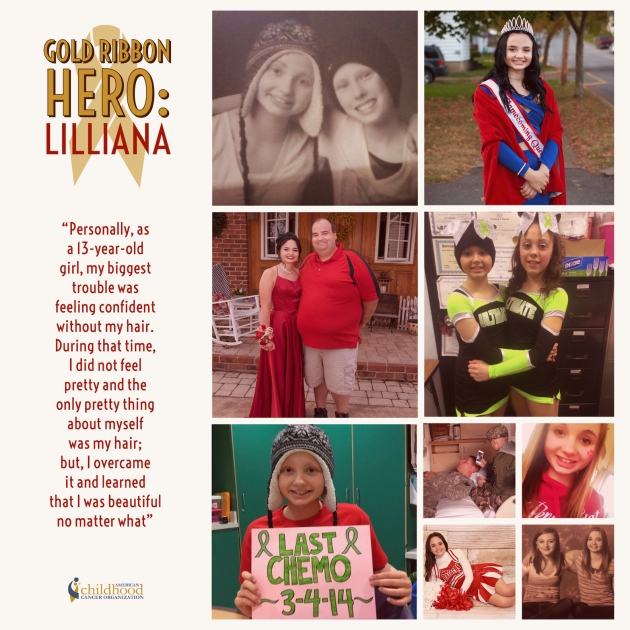 Lilli loves to draw and paint, and is currently looking at colleges to pursue a career as a social worker.

Lilli was diagnosed with thyroid cancer at the age of 13 on September 13, 2013 and was understandably scared and upset. Shortly after her initial diagnosis, the family got a call saying it was much more serious saying they needed to pack their bags for a two week stay in the hospital. Lilli was diagnosed with stage 4 Burkitt's lymphoma.
Treatment was intense for Lilli, she endured seven long months of chemotherapy and spinal taps. She had a port placed in her chest and shortly after had to have it removed due to a severe infection. "I faced many challenges during my treatment both physical and mental but during the whole time I never let myself get a bad attitude about any of it.
"Personally, as a 13-year-old girl, my biggest trouble was feeling confident without my hair. During that time, I did not feel pretty and the only pretty thing about myself was my hair; but, I overcame it and learned that I was beautiful no matter what" said Lilli.
On April 8, 2014 Lilli was cleared for remission and in June of 2019 she was declared out of remission! She is now 19 and attends the survivorship clinic at Pittsburgh Children's Hospital for check ups at least once a year. Please join ACCO in sending Lilli well wishes in her future endeavors.
Lilli was featured in a Buzzfeed article about her journey. Read her firsthand story here: https://www.buzzfeed.com/lillianabailey99/childhood-cancer-gmzl5dpr8
Learn more about childhood cancer here: https://www.acco.org/types-of-childhood-cancer/
Donate to help kids like Lilli fight cancer: https://www.acco.org/donate/