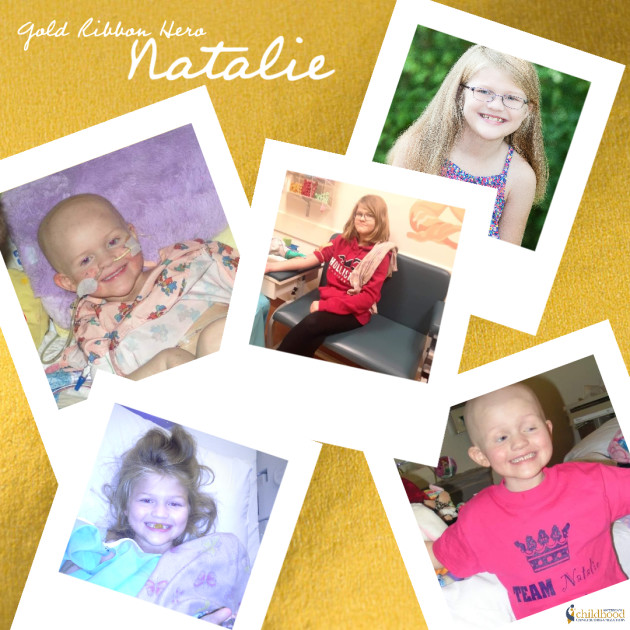 Meet Natalie, a 12 year old aspiring astronaut who wants to become the first woman to walk on the moon! This courageous and determined little girl is a wilm's tumor survivor!
At three years of age, Natalie was diagnosed with a bilateral Wilm's tumor. Symptoms started with a swollen stomach and developed into vomiting and constipation.  Her pediatrician ordered an x-ray of her abdomen and initially said it was stool in the images. As a precaution, labs were drawn which came back showing Natalie was severely anemic. She was sent home and ended up in the Cincinnati Children's ER that night. The family was in the ultrasound room for more than an hour before receiving the diagnosis.
Natalie was immediately admitted into the ICU and chemo started within a few days. A month later Natalie was rushed into emergency surgery in septic shock due to complications and as a result, the tumor and her right kidney were removed. After two months in the hospital, Natalie was released. Four months after the initial diagnosis, Natalie had surgery to help salvage her left kidney however doctors had to remove it and place her on dialysis. Over the next year, she was put under daily chemo and dialysis treatments. In October of 2012, Natalie received a life saving kidney transplant from a family member.
Today, Natalie is a normal 12 year old who loves spending time with family, drawing and participating in drama club. She was officially cured in October 2016 and is very thankful to be a survivor. She still has to go in for labs and doctors visits, but according to her mom Tracy, "she handles all of that like the pro she is."
Please join ACCO in sending well wishes to the young astronaut to-be, Natalie!
For more information about Wilm's tumors, please visit: https://www.acco.org/wilms-tumor-and-other-childhood-kidney-tumors/
To nominate your Gold Ribbon Hero: https://www.acco.org/gold-ribbon-heroes/
To donate to help kids like Natalie: https://www.acco.org/donate/