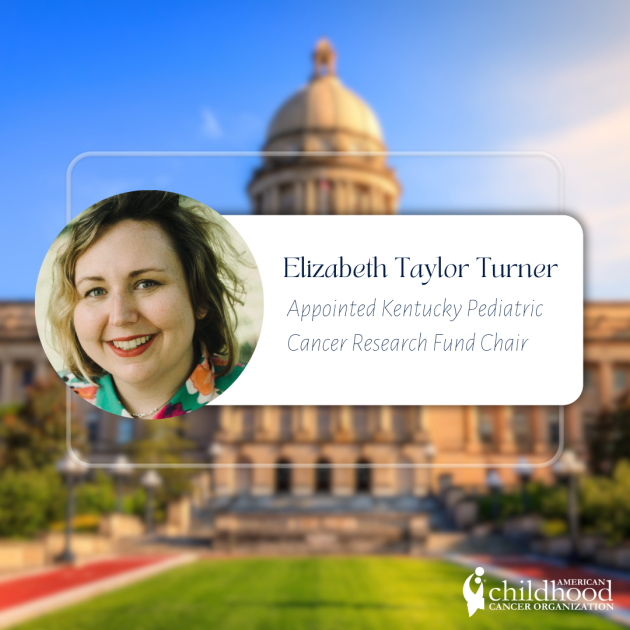 ACCO is proud to announce that our Regional Advocacy Coordinator, Elizabeth Turner, has been voted as the new Chair of the Kentucky Pediatric Cancer Research Trust Fund. 
Elizabeth Turner was thrust into the childhood cancer community when her son, David Jr. was diagnosed with diffuse intrinsic pontine glioma (DIPG). After David Jr. was diagnosed, Elizabeth and David were on a mission to raise awareness and make every day the best day ever. In 2021, David Jr. passed away from DIPG at the age of 9 years old. 
Throughout her career, Elizabeth has focused on health and wellness and has successfully developed community relationships to engage childhood cancer families with stories similar to hers. She was appointed to the Kentucky Pediatric Cancer Research Trust Fund by Governor Beshear in June 2021. She leads a team of members as the Awareness Committee Chair planning events, leading awareness campaigns, and advocating for all families impacted by cancer. Elizabeth also serves as a committee member for the Norton Patient and Family Advisory Council focusing on positively impacting the patient experience.
Background on the Kentucky Pediatric Cancer Research Trust Fund: 
In 2015, the Kentucky Pediatric Cancer Research Trust Fund was established by Senate Bill 82. $2.5 million was allocated for each year of the biennium as part of the 2018 budget bill. The fund aims to make childhood cancer a state health priority by giving all Kentucky children access to cutting-edge cancer research, treatments with less toxicity, and encouraging psychosocial support with a targeted focus on the complicated issues of long-term survivorship.
Since Kentucky's children are diagnosed with these tumors at a disproportionately higher rate than other states, prioritization of this research warrants continued expansion and Kentucky leadership has taken notice. 
States have a critical role to play in overcoming the national disparity between adult and childhood cancer research, treatment, and support. YOU can join the movement to make meaningful change by engaging policy makers at the local and state level. Take action by clicking here.