Meet Steven, a 13 year old Acute Lymphoblastic Leukemia (ALL) warrior! Steven just turned 13 on August 2nd and aspires to be a chef when he grows up. Check out Steven on our Circle Up series and his own IGTV show "Chemo Bites!"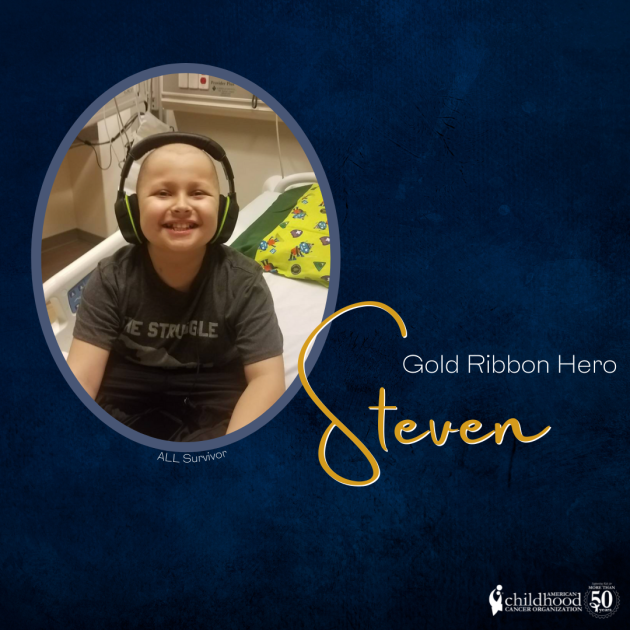 Steven's labradoodle would not stop jumping on him which caused bruised arms and legs and after two bloody noses over one weekend, Steven's mom, Wendy knew something was wrong. On a Monday, Steven was taken to the doctors for bloodwork and by Wednesday the oncologist called Wendy telling her news she'd never thought she'd hear. On his 10th birthday, Steven was diagnosed with high risk acute lymphoblastic leukemia (ALL). 
"I felt my gut instinct was right. I felt angry, I was in denial, I did not know anything about leukemia and I was scared to tell my family and him" Wendy remembers. Steven's family met him at the hospital on his birthday along with the staff who provided birthday gifts and helped him celebrate by singing happy birthday. Steven was so touched that they thought of him and that was the boost he needed to start treatment. 
His treatment began almost immediately with four phases of chemotherapy and maintenance. For an additional three years, Steven has to undergo daily chemotherapy and methotrexate. Unfortunately, Steven is in the 10% of pediatric patients that have sensitivity to the chemotherapy with nausea and vomiting. Steven has endured several spinal taps, chemo infusions, a port placement and a bone marrow aspiration. As a result, he lost his hair, eyebrows, eyelashes and about 30 pounds within two months. 
Steven almost passed away as a result of seizures and respiratory distress. As a result, he has embraced every day and tries to be proactive. Steven "the cancer crusher" has an extremely positive attitude which initially attracted ACCO to get more information. He tells jokes and writes poems and songs. 
Treatment will end in November of 2020. Steven's plan is to continue to raise awareness for childhood cancer and use his platform for good. He wants to gain more support for legislation to push more for funding for life saving medications. He is devoted to helping others understand that advocating is so important. Steven's passion for helping has even inspired him to host blood drives, fundraisers and speak about his journey at various events. His message is to never give up and to remain positive throughout your journey. 
Steven LOVES to cook and has his own IGTV video series called, "Chemo Bites." ACCO featured Steven "the cancer crusher" on our social media and in our "Circle Up" series. He loves to give motivational speeches for encouragement and most recently led a memorial service. He loves Gordon Ramsay and cooking shows. Steven also enjoys playing his xbox, singing, music and writing. He recently appeared on The Mark White Show and you can hear his full interview here.
UPDATE on 10/20/21: From his mother, Wendy. "Well he is now in the 8th grade and 14 years old. He will celebrate 1 year off of treatment next month. He is thriving and doing very well in school. He is even involved at video production at school. He has finally returned to playing baseball after 4 years of not being able to play. He is working on gaining strength and endurance and working out daily. He is studying Japanese with private lessons and is a ramen lover."
Follow Steven on Instagram @Steventhecancercrusher 
Learn more about ALL: https://www.acco.org/blog/what-are-the-signs-and-symptoms-of-childhood-leukemia-cancer/
Together, we can make a difference.
Donate today… because kids can't fight cancer alone
®
.