Grayson is helping kids with cancer by raising awareness!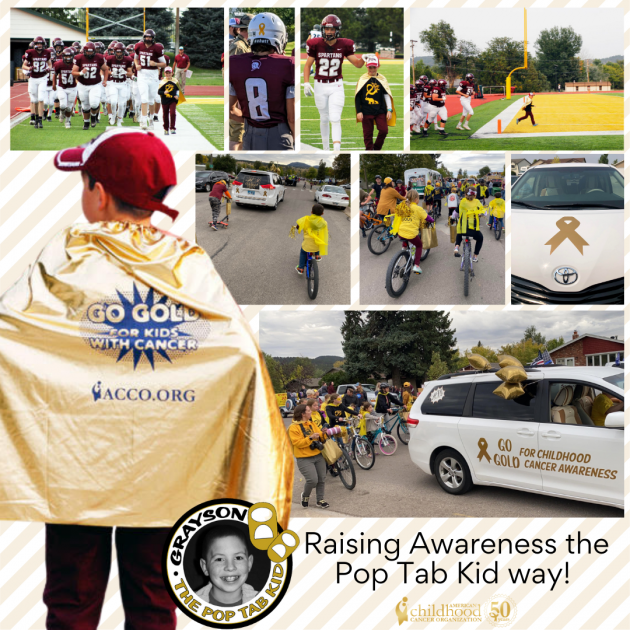 In October 2014, Grayson was airlifted  to Minneapolis for emergency surgery. At that time, the family found out about a mass in the center of his brain, which blocked fluid from draining into his brain stem and down his spinal cord. He was only four years old. After a biopsy, the family received Grayson's diagnosis – grade 2 diffuse astrocytoma, a cancerous brain tumor. 
Grayson has gone through radiation treatment, chemotherapy, various medication changes, and robotic surgery. Grayson is a survivor.  Through it all he continues to sport an attitude of joy. 
In September of 2020, Grayson encouraged his elementary staff and students to "GO GOLD" for childhood cancer awareness. Every Friday, the students and staff wore gold to show their support. Schools in his area even contributed to the awareness events by 'going gold' in their own way. 
In mid September, Grayson led the football team onto the Spearfish Spartans field. "That night, Grayson was glowing brighter than his gold cape that he was wearing. While the team and Grayson entered the field the announcer was telling Grayson's story, he ended by encouraging everyone to wear gold and support childhood cancer awareness.  "It was a tearful event for this momma's heart" said Chelsey, Grayson's mother. Most of the football players knew Grayson's name and were happy to see him. They welcomed him onto the field with fist bumps, high fives and hugs. 
Grayson is 10 years old, in fourth grade and thriving. He even encouraged his community and surrounding areas to "GO GOLD" for childhood cancer. In early October, Grayson and his family entered their custom vinyl decaled van which says "Go Gold for Childhood Cancer Awareness" on all sides. Grayson, his family and friends walked or rode bikes down the streets of Spearfish, South Dakota in the homecoming parade to help raise awareness for childhood cancer.  Thirty kids wearing gold capes and "No One Fights Alone – Be Bold, Go Gold" shirts and riding their bikes, which were decked out in gold ribbons, showed their support and encouraged their community to "GO GOLD" for children fighting against cancer. 
The American Childhood Cancer Organization provides resources and support to families of children with childhood cancer. Please donate so we can continue to provide our services free of charge.