Meet Gabriel, a forever one year old atypical teratoid rhabdoid tumor (ATRT) warrior.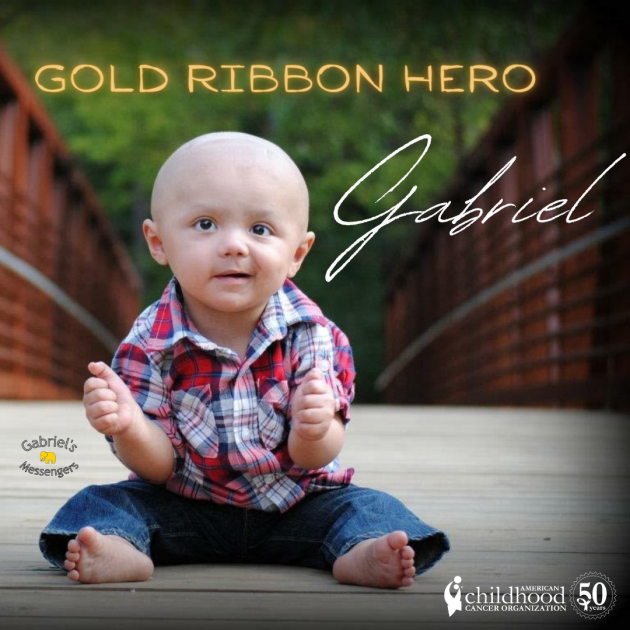 At six months old, Gabriel was at a check up when the doctor noticed his head size was off the charts. The doctor was not concerned at first but she wanted to do an ultrasound to put their minds at ease. At seven months old, Gabriel was taken for his ultrasound appointment. The ultrasound tech came into the room three separate times to get images which triggered Gabriel's parents, Erika and Gilberto, to suspect something might be wrong.
The family was advised that his ventricles in his brain were much larger than normal and he possibly needed a shunt. He was sent to the emergency room immediately. A few hours later, the family met with the neurologist who explained that they wanted to do an MRI to take a look at his ventricles much closer. When the MRI was complete, it showed two masses on his brain. The next morning, Gabriel had a biopsy to confirm his diagnosis of ATRT.
On September 29, 2010, Gabriel was diagnosed with ATRT and they were told he had an 11% survival rate, even with treatment. The initial treatment plan included 52 weeks of chemotherapy and 6 weeks of proton therapy radiation. Treatment began in October 2010 and after undergoing 11 months of treatment, an MRI revealed two masses grew back in his brain, two in his spine and one on his kidney. Chemotherapy continued to slow the progression of the tumor with minimal side effects and on January 27, 2012, Gabriel passed away, just a month shy of his second birthday.
Gabriel's mother, Erika decided that she'd help make an impact on childhood cancer by starting a facebook page to help raise awareness. She helps by arranging a toy drive around the holidays and donating them to kids at the hospital where Gabriel was treated – Children's Healthcare of Atlanta, Scottish Rite Campus and the Aflac Cancer Center.
Learn more about brain tumors here: https://www.acco.org/brain-cancers/
Together, we can make a difference.
Donate today… because kids can't fight cancer alone
®
.