Meet Kyler…
A monster truck loving, lego building typical 4-year-old who has been diagnosed with Acute Lymphoblastic B-Cell Leukemia.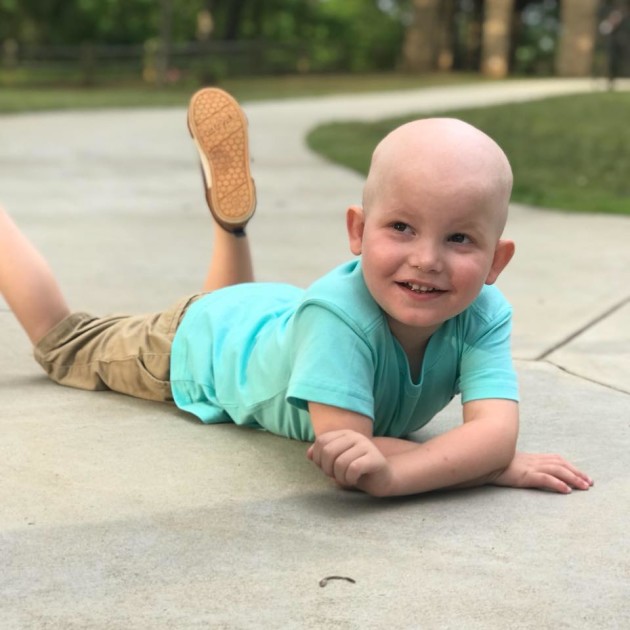 In October 2017, Kyler started having unexplained fevers in the evening for approximately three weeks. He then began suffering from leg pains in the middle of the night. The pains were so severe that he would cry all night long and refuse to walk. His mother, Ashley, decided to take him to the pediatrician. The doctor performed labs on Kyler and he was referred to a specialist for possible juvenile rheumatoid arthritis. Subsequently after, he was referred to an oncologist. The oncologist scheduled a bone marrow biopsy confirming Ashley's worst fear.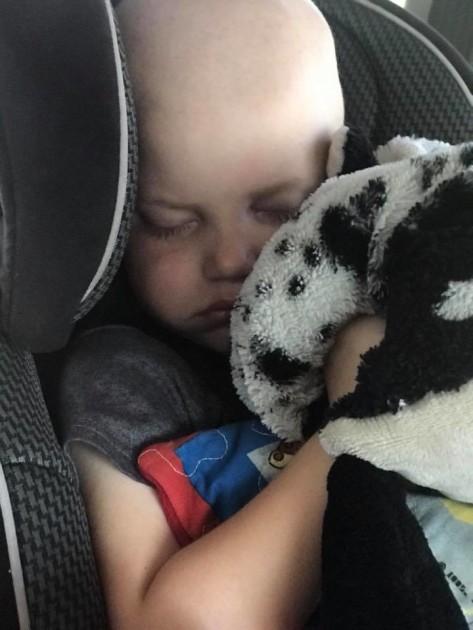 On November 21, 2017 Kyler was diagnosed with Acute Lymphoblastic B-Cell Leukemia. "Our visit with the oncologist was the longest 2 hours of my life. At that time, most of out family was in town for Thanksgiving. We made a decision to wait until the day after Thanksgiving to admit Kyler. On 11/24/17, we were at the hospital at 5 am for Kyler to have a port placed and was admitted to Beverly Knight Olson Children's Hospital to begin treatment" remembers Ashley, Kyler's mom.
Kyler is undergoing aggressive treatment consisting of chemotherapy given through a port, intrathecal chemotherapy, chemotherapy pills and steroids. His protocol and treatment progresses through phases; induction, consolidation/intensification and maintenance. As a result of the treatment, "Kyler has developed a foot drop in the right foot and peripheral neuropathy from Vincristine," Ashley said. He is in physical therapy for his foot and now in speech therapy as a result of the neuropathy drug Neurontin. Kyler is suffering from PTSD as a result of the traumatic process and takes antidepressants to help him self-regulate. Currently, he's waiting for occupational therapy because of weakness in his arms and hands due to neuropathy.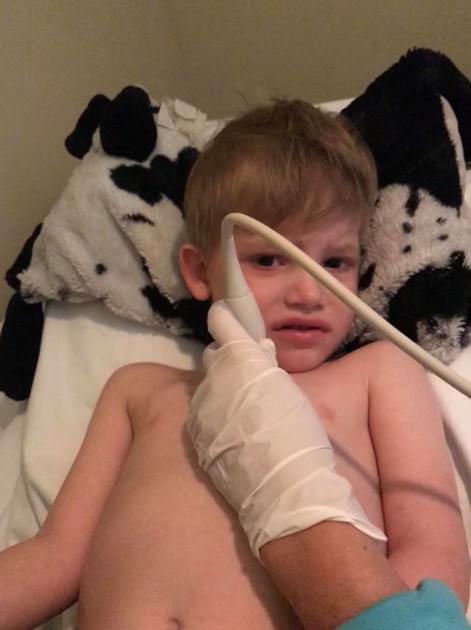 When treatment began, Kyler could not comprehend what was going on, but now one year older, and Kyler can express his feelings about treatment and cope. Ashley said, "Over the last three months, Kyler has really began to cope with the disease. He has began to talk about his feelings and is understanding more and more. We try to explain things to him in a way he can understand."
Kyler began pre-kindergarten last August, and he loves his teacher and school. He is enjoying interacting with others and going to the playground. Kyler loves the beach and playing outside and in the mud. He loves playing with his transformers toys, dinosaurs and searching for bugs. Kyler is one tough warrior saying "because I'm brave and do my port, I don't ever give up, because I'm KylerStrong."
He is currently in treatment at Beverly Knight Olson Children's Hospital in Macon, Georgia.
You can follow Kyler's story on Facebook at @kylerwpike
Donate today to help cancer fighters like Kyler: https//www.acco.org/donate
More about Childhood Leukemia Cancers:
Learn More About the Different Types of Childhood Cancers:
Together, we can make a difference.
Donate today because kids can't fight cancer alone
®
.

About American Childhood Cancer Organization
The American Childhood Cancer Organization was founded in 1970 by parents of children and adolescents diagnosed with cancer. As the nation's oldest and largest grassroots organization dedicated to childhood cancer, ACCO is committed to shaping policy, supporting research, raising awareness, and providing free educational resources to kids with cancer, survivors, and their families. Additionally, ACCO is the sole U.S. member of Childhood Cancer International (CCI) and has helped support more than half a million families over the past 50 years. Help make childhood cancer a national health priority because kids can't fight cancer alone®. 
For more information about how ACCO can help your family, call 855.858.2226 or visit: