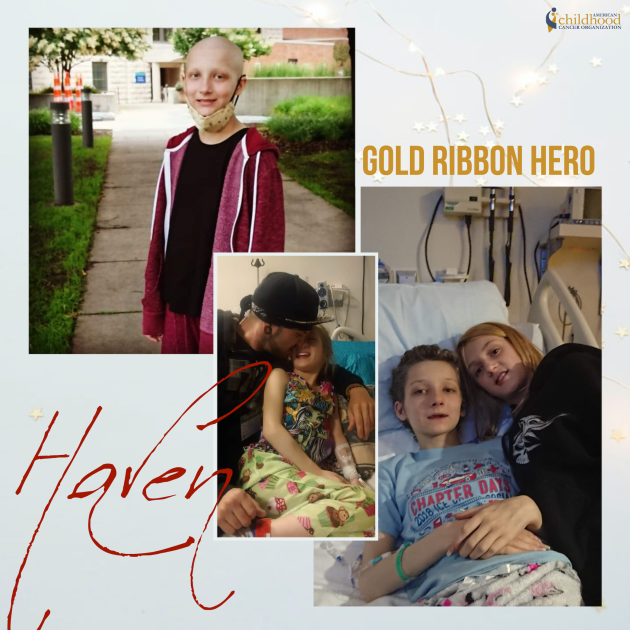 Meet Haven, a brave cancer warrior that was taken too soon. Haven fought a long battle with B-cell acute lymphoblastic leukemia (ALL) for almost five years with a smile on her face and concern for people around her. 
At just nine years old, Haven was experiencing fevers and swollen lymph nodes. On April 24, 2015, she was diagnosed with B-cell ALL. "We went to get blood work to see why she was having fevers and we were in utter shock hearing the word 'leukemia,' " remembers Haven's mother, Magan. Haven's parents were fearful and heartbroken but Haven remained positive with a "let's beat this" attitude.
Treatment started almost instantly and Haven received two and a half years of chemotherapy. She had a port placement and removal as well as a hickman placement and removal. Haven went into remission for 15 months and then relapsed again. This time, treatment consisted of four months of chemotherapy and a bone marrow transplant which resulted in Haven going back into remission for seven months. On December 20, 2019 Haven relapsed and sadly passed away on January 7, 2020. 
Haven was very strong. When she relapsed the first time, she told her mom that 'at least it was her and not someone who couldn't handle it.' One of Haven's favorite things to do was cooking and she always wanted to feed everyone. Haven asked that her family help feed other families on the oncology floor during the holidays in honor and in memory of her.  "Even on her deathbed, she was still worried about everyone else and was not scared. She was at peace knowing that her life would soon come to an end," Magan said. Days before Haven passed she said that she was grateful that she had received the bone marrow transplant since researchers could learn from her story. 
To learn more about ALL: https://www.acco.org/childhood-leukemias/
To nominate your own Gold Ribbon Hero: https://www.acco.org/gold-ribbon-heroes/
Together, we can make a difference.
Donate today because kids can't fight cancer alone
®
.

About American Childhood Cancer Organization
The American Childhood Cancer Organization was founded in 1970 by parents of children and adolescents diagnosed with cancer. As the nation's oldest and largest grassroots organization dedicated to childhood cancer, ACCO is committed to shaping policy, supporting research, raising awareness, and providing free educational resources to kids with cancer, survivors, and their families. Additionally, ACCO is the sole U.S. member of Childhood Cancer International (CCI) and has helped support more than half a million families over the past 50 years. Help make childhood cancer a national health priority because kids can't fight cancer alone®. 
For more information about how ACCO can help your family, call 855.858.2226 or visit: