Alex's Story: B-Cell ALL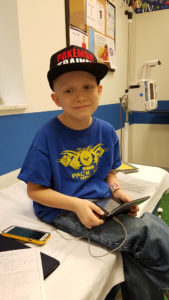 Alex's childhood cancer journey began in August 2016 when his Mom (Alex's grandmother who has cared for him since infancy and adopted him at the age of 5) noticed unusual bruising on his legs. Thinking perhaps anemia, or low iron, was causing the bruises, the diagnosis was far more serious than she could have imagined: Alex had B-Cell Acute lymphocytic leukemia (ALL). He began chemotherapy immediately; currently, he is in remission and undergoing maintenance chemotherapy. With his total treatment time expected to be three and a half years, it has been a tough battle for Alex, but he continues to fight with the courage, strength, and perseverance of a true childhood cancer warrior.
Leukemia is the most common form of childhood cancer, accounting for nearly one-third of all childhood cancers. It begins in the soft core of the bones, known as the bone marrow, then spreads into the blood stream. B-cell ALL (Acute lymphocytic leukemia) is a quickly-growing form of leukemia in which the cancerous cells originate in B lymphocytes, the cells responsible for making the antibodies that the body uses to fight bacteria and viruses. Standard treatment is usually one to two years of chemotherapy targeting the cancer cells in the blood and in the bone marrow.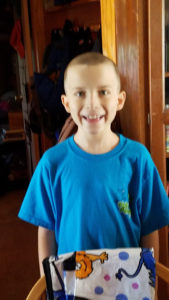 Yet as Alex and his family have learned, treatment for childhood cancer is never "standard". In Alex's case, it became clear very early in treatment that the cancerous cells in his body were not responding to the traditional course of medication used to fight ALL. Alex's oncology team changed his status to "Very High Risk"—a nightmare scenario for any family—and he was placed on a far more aggressive chemotherapy regime. Luckily, this new regime worked and a month after his diagnosis, Alex's Mom received the news she had been hoping and praying for: the leukemia was gone from Alex's bone marrow. Although Alex's fight was far from over, remission was, at the very least, a step in the right direction!
Childhood Cancer: a Physical and an Emotional Journey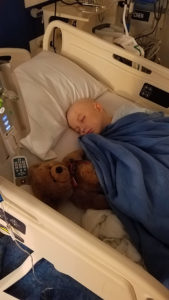 The physical side effects of childhood cancer are well-documented; yet fighting childhood cancer is an emotional struggle as well, and one much-less-frequently discussed. Navigating a new, unknown world of medical terminology, hospital life, treatment schedules; helping explain and deal with the physical side effects of chemotherapy; making potentially life-and-death decisions for your child: these challenges present an emotional struggle for all families facing a childhood cancer diagnosis. Yet navigating this world can be even more difficult for families—like Alex's—who are already trying to deal with stress and pain in their lives.
Alex's Mom has faced the extraordinarily difficult challenge of helping Alex fight childhood cancer while simultaneously facing the death of both her father and her daughter (Alex's mother) only months before Alex's diagnosis. Her own struggles with overwhelming grief and coping with both her own health problems and those of her husband have made it very, very difficult for her to tackle Alex's disease as aggressively and assertively as she would like. Yet even through the added pain and stress, Alex's Mom has never left Alex's side or faltered in the fight against childhood cancer; as she says, "We are doing all we can to help Alex soar through this."
Alex has faced his own emotional challenges as well during his fight with ALL. In particular, he is struggling to cope with feelings of self-consciousness and isolation, all-too-common in many children, especially school-aged children, undergoing treatment for cancer. He is saddened by the perception that he is an "outcast" and that he has lost his "old life", feelings that are augmented by the fact that he can't currently participate in activities that he loves such as Cub Scouts and soccer. Because he must wear a mask in public to prevent him from coming into contact with bacteria and viruses that his body cannot fight effectively, he is uncomfortable in public. He doesn't like the fact that people often stare at him and worry that he will make them sick. Alex's Mom has struggled to help Alex cope with these emotional challenges that are often as difficult as the physical challenges of childhood cancer.
There are no easy answers to these challenges, but we hope that by sharing Alex's story, we can also remind Alex and his family that they are not alone and that there is help and support available to them, to help them through both the physical and emotional challenges presented by Alex's fight with childhood cancer.
About American Childhood Cancer Organization
American Childhood Cancer Organization (ACCO) is a non-profit charity dedicated to helping kids with cancer and their families navigate the difficult journey from cancer diagnosis through survivorship. Internationally, ACCO is the sole U.S. member of Childhood Cancer International (CCI), the largest patient-support organization for childhood cancer in the world. Here in the United States, ACCO promotes the critical importance of ensuring continued funding into new and better treatment protocols for childhood cancer.  And most importantly, ACCO is focused on the children: developing and providing educational tools for children fighting cancer and their families, empowering them in their understanding of childhood cancer and the medical decisions they must make during this difficult journey. All of ACCO's resources are available free of charge for families coping with childhood cancer.
For additional information about childhood cancer or on the ACCO, or to order resources for you or your child, please visit our website at www.acco.org , call 855.858.2226 or visit:
Want To Read American Childhood Cancer Organization On Your Phone? Click the NoteStream logo: